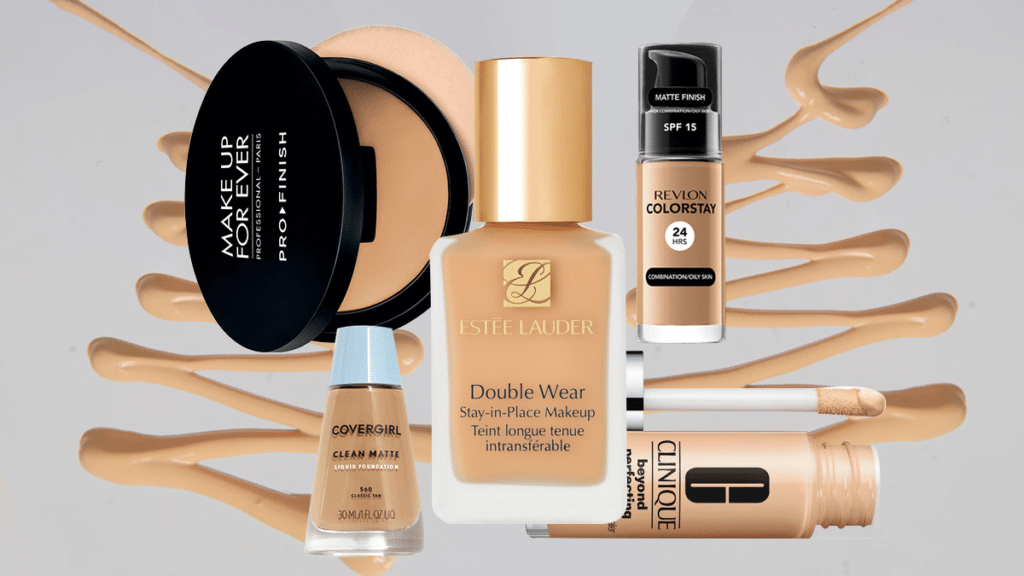 If you have a naturally shiny, oily skin, you understand the struggles of finding the right foundation. Read on to settle the powder or liquid foundation for oily skin debate and find the perfect foundation formal for your oily skin.
To keep your skin fresh without turning into a grease factory by midday, you need to use the right skin care products as well as makeup products. You need a foundation that controls the excess oils on your skin and one that can also hold together your entire makeup look for hours.
The most important part of skin care and makeup is learning more and understanding your skin type. The products you buy for your skin will depend on the skin type and how it reacts and adapts to seasons, weather, and other circumstances. The skin is very sensitive, which means it can react differently to different products. For instance, harsh treatments and cleansers can cause your skin to produce more oil than needed even if the formula is actually made for oily skin. On the other hand, thick moisturizers are heavy and can reduce natural oil production, making dry skin even drier.
What is your skin type?
While everyone has a unique skin type, there are three main categories that will help you identify what kind of skin you have. Below are two ways you can identify your skin type
Blotting sheet method
This is a fast way to determine what type of skin you have. It works best for differentiating between dry skin and oily skin. All you need is a bloating paper; gently pat it on different areas on your skin. Hold the paper up to a light to check if it is visible.
If there is no oil on the sheet, you have dry skin. If the blotting paper is visibly saturated with oil from all parts of your face, you have oily skin. If the oils are mainly from the nose area, forehead, and inner cheeks, you have combination skin.
The barefaced method
Here, the first steps are to cleanse your face with a gentle or mild cleanser. Next, pat your skin dry and leave it bare. This means you should not apply any treatments, serums, or moisturizers. After about 30 min, check out your chin, nose, forehead, and cheeks for shine. If the skin feels parched and tight when you make facial expressions or smile, then you definitely have dry skin. If there is shine on the nose and forehead, you have combination skin. Shine on your cheek nose and forehead means you have oily skin.
Here are the main skin types
Oily skin – people with oily skin tend to produce excessive oil, which will not only leave your pores clogged and congested but also tends to spoil your makeup look within hours. Oily skin is very difficult to deal with; you have to find the right long wear foundation that will not turn greasy.
Combination skin – people with combination skin often have dryness on the cheek, which is why it is vital to get foundation that will help you retain the right amount of moisture.
Dry skin – Dry skin tends to feel tight and produces notable flakes. It can be a result of genetics, diet lifestyle, hormones, climate, and other environmental factors. Best foundations for dry skin should contain moisturizers, hyaluronic acid, and other ingredients that attract water to your skin.
How to choose foundation for oily skin
Choosing the right foundation for oily skin can be challenging and online stores seem to make it more difficult. From the endless swatches and reviews online, the variety of foundation that is currently in the market only makes it harder to make the right choice when it comes to purchasing foundation for your skin type. That is not to mention the delivery, finish, and level of coverage a foundation offers.
Purchasing foundation for your oily skin can feel like you are lost in a sea of products. In the end, it all depends on your skin type and what looks you want to achieve. Powder and liquid foundation are two of the best formulas for people with oily and combination skins.
Liquid foundation
Liquid foundation has been around for a long time now. Depending on the formula, you can use it to transform your skin to a matte, dewy, radiant, or natural finishes depending on what look you are going for.
Benefits of using liquid foundation on oily skin
Liquid foundation is available in water, oil, and cream base formula. If you have oily skin, you should purchase water base formula. Liquid foundation is very easy to apply when you have the right tools, even for beginners. Moisturizers in liquid foundations can keep your skin hydrated and reduce oil production, which is the effect you are looking for from any foundation. Matte liquid foundation is perfect for people with oily skin; it gives off a dry, clear finish and also makes your look last for hours on end.
Disadvantages – liquid foundation can look wet and shiny and transfer easily when you sweat or produce excess oil on the skin. Some matte liquid foundations will leave your looking artificial or cakey, which is not ideal if you are going for a more natural finish. Oil from your face can accumulate and form lines or wrinkles after a while.
How to apply liquid foundation for oily skin
Step 1 – clean your face
You should always start with a clean face when applying any makeup products. Make sure you clean, tone, and moisturize your skin to remove dirt and residue in your face, keep your skin healthy and remove the excess oil before you begin.
Step 2 – moisturize and primer
This is another step you don't want to skip, regardless of your skin type. Moisturizing your skin is important to keep it healthy and reduce oil production throughout the day. Ensure you go for water based moisturizers as they work best for oily skin. Primes act as a barrier between your skin and the foundation. Don't forget to purchase an oil free primer
Step 3 – the application
Another step than determines how the foundation will settle and lay on your face is the application brush. There are two main tools that make foundation blend well into your skin: the classic foundation brush and the sponge.
Classic brush – foundation brush is a must for anyone who wears liquid foundation. When picking out foundation brush, go for one made with smooth, soft bristles that are condensed and a tapered cut. This shape and density allow a foundation brush to apply liquid foundation smoothly on to the skin.
To use a foundation brush, you need to place foundation on your skin of the brush and use it to gently brush it into the skin while pulling away. With liquid foundation, you need to move in fast motions to blend out the foundation perfectly before it dries out. Foundation brush is best for low to medium coverage when using a liquid foundation.
Beauty sponge – this is, perhaps, the most popular cosmetic tool in the makeup world. Everyone owns a beauty blender because they are very affordable and easy to use. Beauty blenders come in several materials and shapes. When looking for a beauty blender for your foundation, go for one with a large base that will cover a large skin surface during application and blending.
The best way to use a beauty blender with liquid foundation is to wet first. Getting the blender dump will prevent it from sucking up much of the product during application.
Powder foundation
Powder based foundation is pretty dry, which makes it the perfect foundation for people with oily skin. Don't mistake powder foundation to pressed face powder; it contains adhesion ingredients that help it cling more to your skin. Powder foundation also includes a high concentration of pigment to help conceal blemishes, uneven skin tone, hyperpigmentation, blackheads, and other blemishes.
Benefits of using powder foundation for oily skin
Powder foundation is great for a natural finish. It gives off a sheer coverage thank makes your skin look healthy and smooth. Powder foundation also has fewer preservatives when compared to liquid and other foundation, which makes it a very healthy option for your skin. Powder is easy to apply and can be reapplied several times throughout the day.
Disadvantages – The problem with powder foundation is that it can be difficult to achieve a heavy, full coverage look like other foundations unless it is paired up with a different base. The brush techniques used for powder application are extremely complex for beginners. Also, loose powder foundations can be quiet messy. If you are not careful with the method of application, the powder will transfer to clothing and your hands when you touch your face. The application process for powder foundation takes longer than all other foundations.
How to apply powder foundation on oily skin
Step 1
When it comes to powder application, the process is the same for any kind of foundation. Starting with a clean, toned face, apply a moisturizer, let it sit, and follow it up with a toner before you start the foundation application process.
Step 2 – application
Powder foundations work best with a makeup brush. They are particularly perfect for people with oily skin because it absorbs all the oil on your face, leaving a clean, smooth sheer finish. If you are striving to get full coverage on your foundation, you need to apply it is multiple light layers.
Powder or liquid foundation for oily skin?
While skin types are categorized into several groups, everyone is different. There are several factors to consider when buying a foundation and they all depend on your needs as well as skin type. If you have sensitive skin, powder foundation will work great for you since it does not have too many ingredients, which reduces any chances for reacting with your skin. Liquid foundation, on the other hand, is perfect if you are looking for a product that will hold your look together for longer.