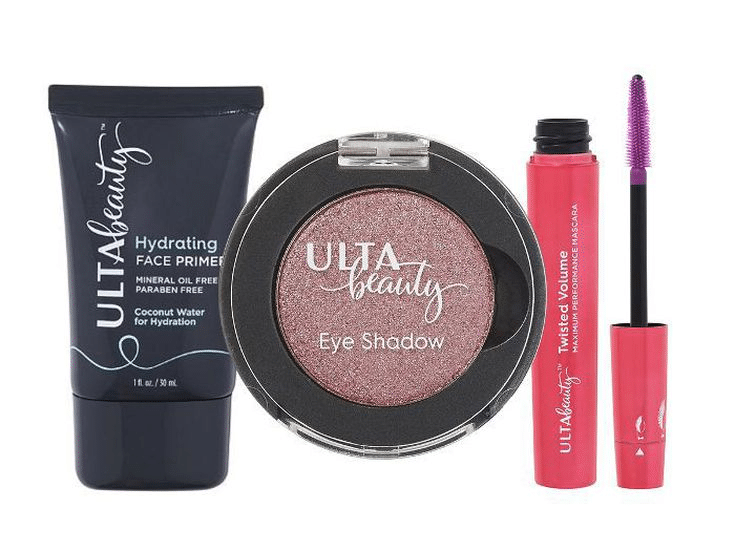 When your skin is naturally shinier than most people, it can be difficult finding the best foundation for oily skin that will help to control the excess oil and stay in place all day. Wearing foundation when you have oily skin can be tough, but that doesn't mean it's impossible.
Most of the time, your makeup will slip and slide down your oily complexion because you're using the wrong formula. Most people with oily skin make a very common mistake of wearing the wrong foundation. You choose foundations that are meant for dry skin or formulas that will give you a glowing finish instead of going for foundations that are oil-free and provide a matte finish, which allows your pores to breathe much easier. However, oily skin has its benefits like you have fewer wrinkles and fine lines, age slower, and your skin is better hydrated.
What is oily skin?
If you're oily only at the sides of your nose and chin, you don't have oily skin; you have combination skin. When you have authentic oily skin, you will have very large pores, a consistent shiny or greasy appearance on your entire face, experience periodic breakouts no matter your age, and the texture of your skin will seem thick or coarse.
If you're still not sure you have oily skin, you can try this simple method; wash your face with gentle soap in the morning and pat dry. Don't apply any makeup or lotion for about 2 hours, then look in the mirror. Your face will look shiny and covered in oil, which means you have oily skin. But if you have some dry patches on your cheeks and forehead, you have combination skin.
Makeup tips for oily skin
Exfoliate
Gently exfoliate your skin at least 2-3 times a week and using a gentle cleanser once a day. You can also exfoliate weekly with a mineral or mud mask to help deep clean and tone your skin for skin that is smooth and free of dead skin.
Use a mild facial cleanser
Choose a mild facial cleanser that is designed for oily skin every morning and evening before you go to bed. However, don't overdo it because you will cause your skin to produce too much oil. Find a cleanser that deep cleans your pores and dissolves oils to help purify your skin without exposing it to harsh chemicals.
Moisturize and hydrate
Choose products that contain ingredients that will not only moisturize but also hydrate your skin like hyaluronic acid, which is known for attracting water to your skin and helps to prevent loss of moisture. It will also hydrate your skin from the inside out. This prevents your oil glands from producing more oil.
Use a toner, but be careful
Toners are very good at cleansing your pores, but they can also tilt the balance in your skin by stripping it of its natural sebum. Look for a mild and natural toner that will cleanse your skin without causing an imbalance.
Use a mattifying primer before your foundation
Instead of applying your foundation directly on your face, apply a primer first that will stay on your skin to help hold your foundation in place all day. You can also wear a primer when you don't feel like wearing any makeup to keep your skin natural and matte.
Choose a translucent setting powder
Most people think you only use setting powder after you've finished applying your makeup, but you can also use it to set your face before you apply your foundation. It will absorb any excess oils. This will help keep your look in place all day.
Use a long-wear oil-free foundation
The fact that your skin already has enough oil means you should avoid using products that contain oil as one of its ingredients. Look for a foundation that is long-wearing and is formulated with specific ingredients for oily skin.
Avoid layering
If you're going for a natural or full coverage look, avoid applying thick layers of your foundation instead work with light layers that you can build on where you need more coverage or around problem areas like imperfections. Applying light layers allows your makeup to stay for longer and avoid having a cakey look.
Use setting powder again
Even if you set your face before applying your foundation, you should set your face again once you're done with your makeup. Creamy and liquid foundations tend to crease or melt, especially during warm weather. That's why you must apply setting powder on your face, especially under your eyes, areas where you get oily, and around your fine lines.
Use a setting spray for extra protection
If you have oily skin, it's kind of a must you use a setting spray on your face after you've finished applying your makeup if you have a long day ahead of you. You can get one in a travel size that you can carry in your purse or pocket for easy access.
Invest in blotters
You can use blotter sheets to dab your face any time to help you capture the excess oil on your skin, which helps to reduce your natural shine without wiping away your foundation. Don't wipe your face, pat it if you don't want to leave streaks on your makeup.
Use a lip liner to keep your lipstick in place
Using a lip liner is not only for giving you fuller lips but also for preserving your lipstick for longer. Lining your lips provides a barrier for your lipstick which helps to avoid bleeding outside your lips.
Avoid touching your face
Although it's a natural habit that we all have, try your best not to touch your face because the germs and oils on your hands get transferred onto your skin and pores. This can cause skin irritation and the breakdown of your foundation, which means by midday you will have a greasy mess on your face. If you keep your hands away from your face, you'll be surprised how long your makeup can last.
Use SPF when out in the sun
Whether you have oily skin or not, it's important that you protect your skin from sun damage. There are many sunscreen products that are mattifying and are designed for the hot summer months so you can use them to lock your makeup in place all day and still protect your skin from the sun at the same time.
Table for the best foundation for oily skin

| Foundation | Available shades | Coverage | Check on Amazon |
| --- | --- | --- | --- |
| | 40 | Buildable coverage | |
| | 40 | Medium to full coverage | |
| | 30 | medium to buildable coverage | |
| | 25 | Buildable to full coverage | |
| | 22 | Natural to full coverage | |
| | 25 | Buildable to full coverage | |
Maybelline fit me matte foundation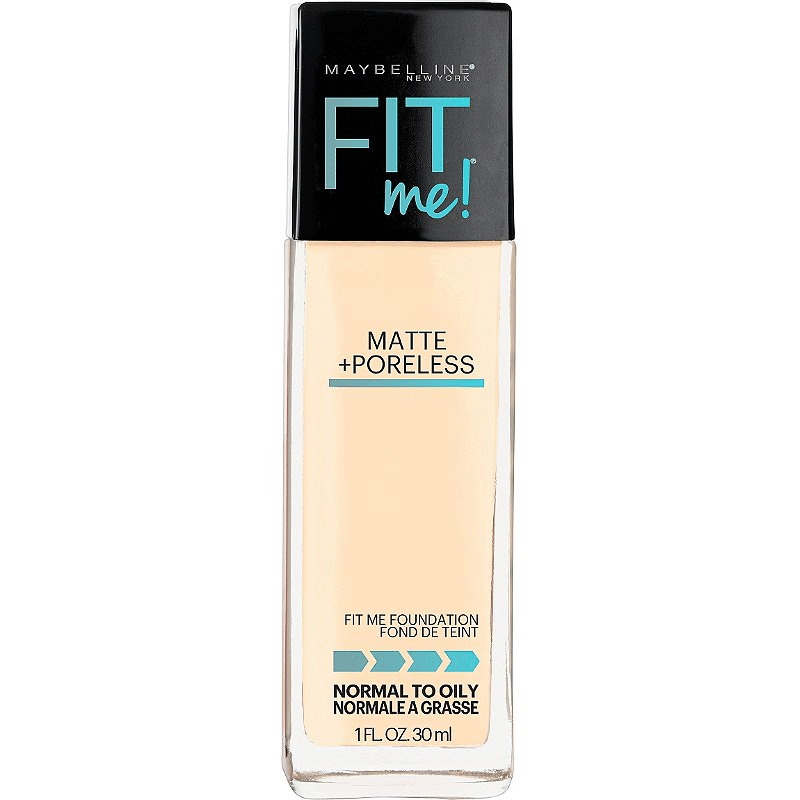 This is an oil-free foundation and an excellent choice if you're trying to hide the appearance of your pores. It goes on smoothly and stays all day so you don't need to keep retouching your makeup. It has a matte finish that helps to absorb the oil on your skin surface, reduce your pores, and provide you with seamless coverage. This liquid foundation has good coverage for most of the skin tones to give you a natural-looking matte finish. It's formulated to reduce your pores so that you don't need to worry about the foundation clogging your pores and causing acne breakouts. It will get on smoothly without creasing into your lines or wrinkles for that flawless look and beautiful glow that will last all day. It has buildable coverage so just a small amount will go a long way in ensuring you don't look caked. This foundation is available in 40 shades with most of them in the darker shades.
Pros
It's gentle on your skin and doesn't irritate your pores or acne
Doesn't settle in your lines and wrinkles
It's not too light or too thick
It blends very well to last all-day
Cons
The shade colors may be confusing
Doesn't cover all your blemishes
Verdict
A lightweight oil-free foundation that has excellent coverage without clogging your pores to give you a flawless natural look.
Fenty beauty pro filt' r soft matte foundation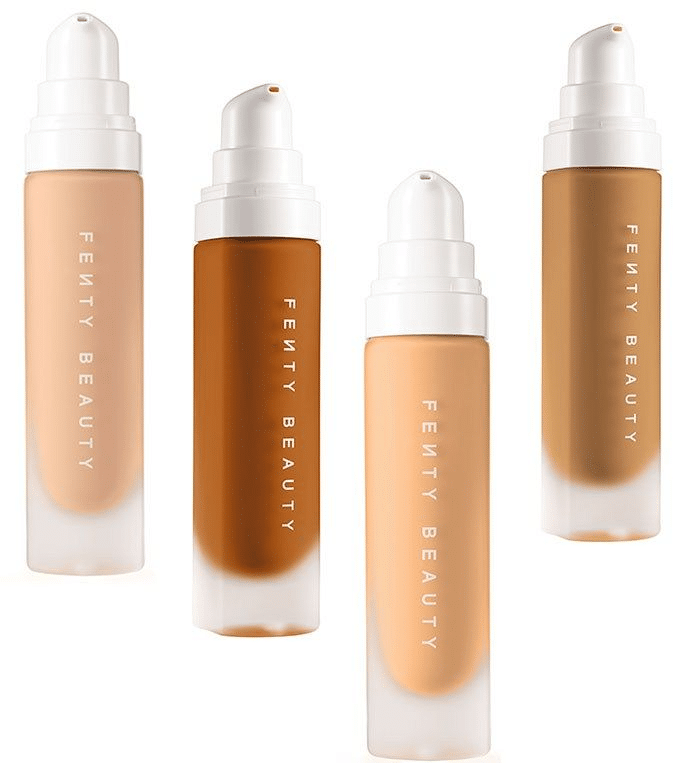 This is a super lightweight long-wearing foundation with an oil-free formula that is designed to adapt to the climate making it resistant to sweat, humidity and doesn't clog your pores. This makes it perfect if you have oily or combination skin. Its lightweight formulation gives your skin a smooth natural feel like you're not wearing any makeup and it offers great coverage even with its light formula. This foundation helps to eliminate shine so it can stay in place all day without you having to retouch it during the day. It dries fast so apply some moisturizer beforehand and use a wet brush to even it out to give you that very matte look you wanted.
Pros
Gives you a natural flawless look
It's very lightweight
Provides great coverage
Helps to eliminate shine
It can last all-day
Cons
The shade colors may not match with your skin tone
Verdict
A lightweight foundation that will allow your skin to breathe without clogging your pores while leaving it looking smooth and matte.
bareMinerals original foundation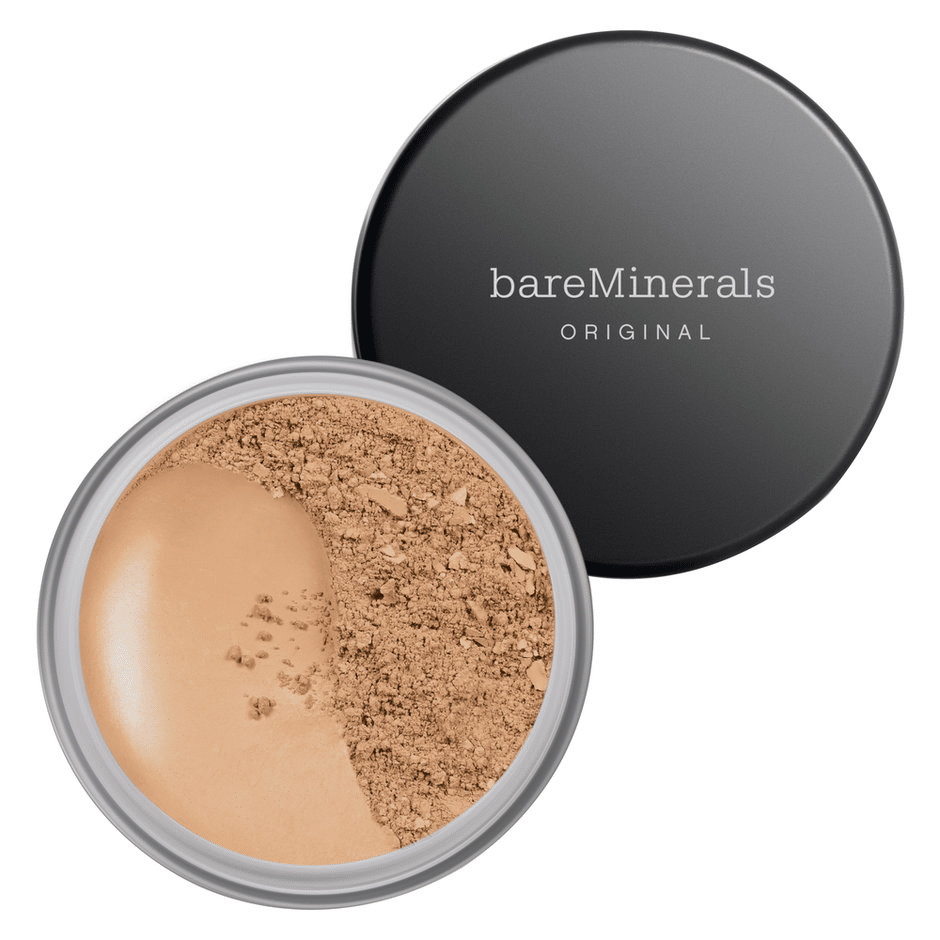 This is a loose powder foundation that will give you that natural-looking coverage while keeping shine at bay. It will provide you with more coverage than any liquid foundation while maintaining a natural look and you don't feel like you're wearing it. It has a lightweight consistency, skin-perfecting pigments, and a non-chemical sunscreen which is a great combo especially if you have acne-prone or sensitive skin. Although this foundation is a powder, it goes on smoothly on your face like a cream and helps to reduce the appearance of your pores without getting into them. It has a broad spectrum SPF 15 which provides mineral-based sun protection so your skin is well protected when you're out in the sun all day. It's hypoallergenic so you're safe from getting any allergic reactions.
Pros
A great foundation for sensitive or acne-prone skin
It has an SPF of 15 which protects your skin from sun damage
Gives you a nice natural look
Provides good coverage
Cons
It's expensive
Many users have complained of being sold a counterfeit product
Verdict
A loose powder foundation with a light consistency that will give you a natural finish with great coverage without clogging your pores.
Tarte Cosmetics Amazonian foundation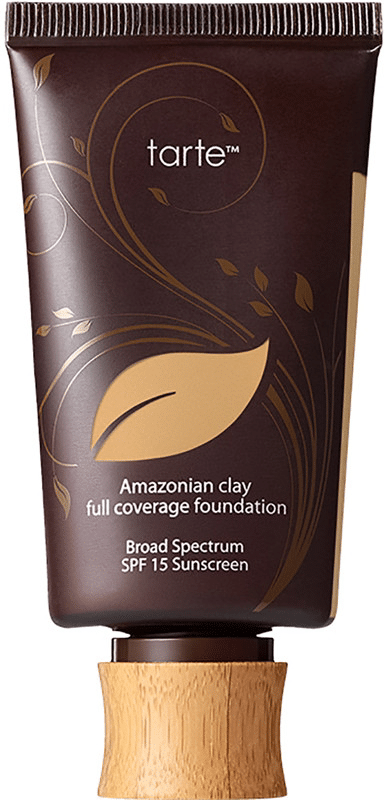 This full-coverage foundation is formulated with Amazonian clay that sucks up excess oil and reduces your pores without drying your complexion and vitamin E that nourishes your skin while protecting your skin from free radicals. It feels great on your skin, spreads easily, and has a light feel. It has great coverage that will last up to 12 hours so you don't have to do a touchup during your lunch break. It blends well and thins out considerably when applied on your skin to give you a nice balance between matte and dewy without giving you an oily appearance. It's lightweight and multitasking formula gives you a buildable coverage for a flawless look. The Amazonian clay will match your skin tone and texture to perfectly hide your blemishes ad imperfections while the micronized zinc and titanium protects your skin against environmental damage. It is available in 25 different shades.
Pros
The ideal foundation for sensitive skin
It's long-lasting
Doesn't cause any skin irritation or breakouts
Keeps your skin moisturized without leaving it oily
Cons
The color shades may be confusing
It's expensive
Verdict
A foundation that is formulated with Amazonian clay that is good at absorbing excess oil from your skin and vitamin E to keep your skin nourished for a good matte dewy blended look.
L'Oreal Paris infallible pro-matte foundation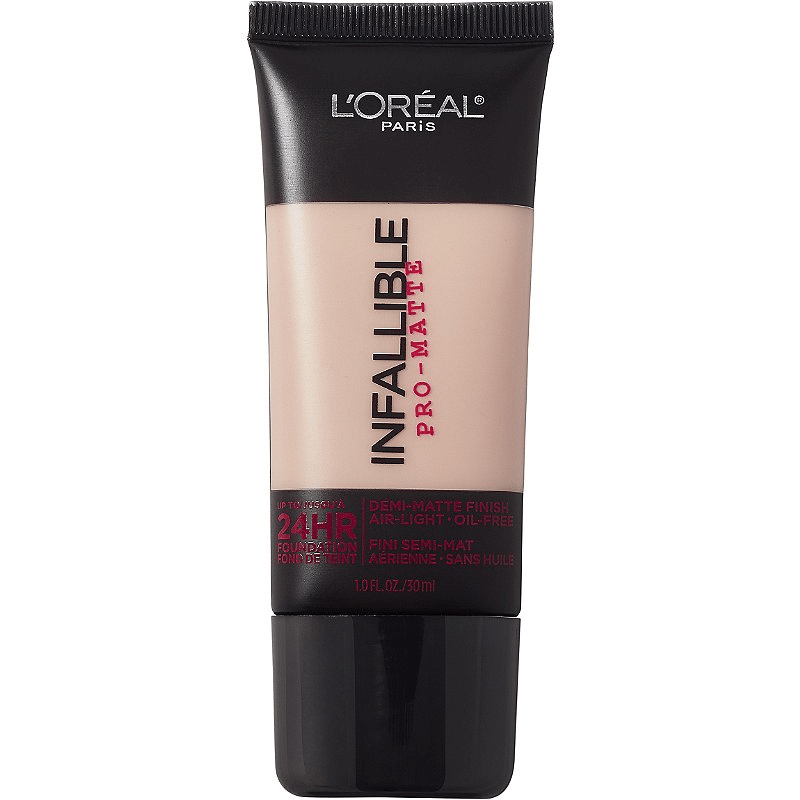 A lightweight and creamy matte foundation that has a demi-matte finish which helps to reduce shine while keeping your skin dewy. It provides you with medium coverage that covers all your blemishes and imperfections all day so you don't need to use the blotting sheets in your makeup bag anymore. It has a barely-there feel and it's also heat, sweat, and humidity proof for up to 24 hours. This long-wearing liquid foundation will hide your imperfections really well to give you a smooth and clear complexion. It is available in 22 different shades.
Pros
You can smoothly blend the foundation with your fingers
It's a wonderful full coverage foundation
It's light and fairly comfortable
It hides your blemishes and spots very well
Cons
It's difficult to pick the right shade
It dries very quickly
Verdict
A lightweight foundation with a medium to full coverage that hides your blemishes and imperfections very well while giving you a clear matte finish without feeling oily.
PUR 4-in-1 pressed mineral makeup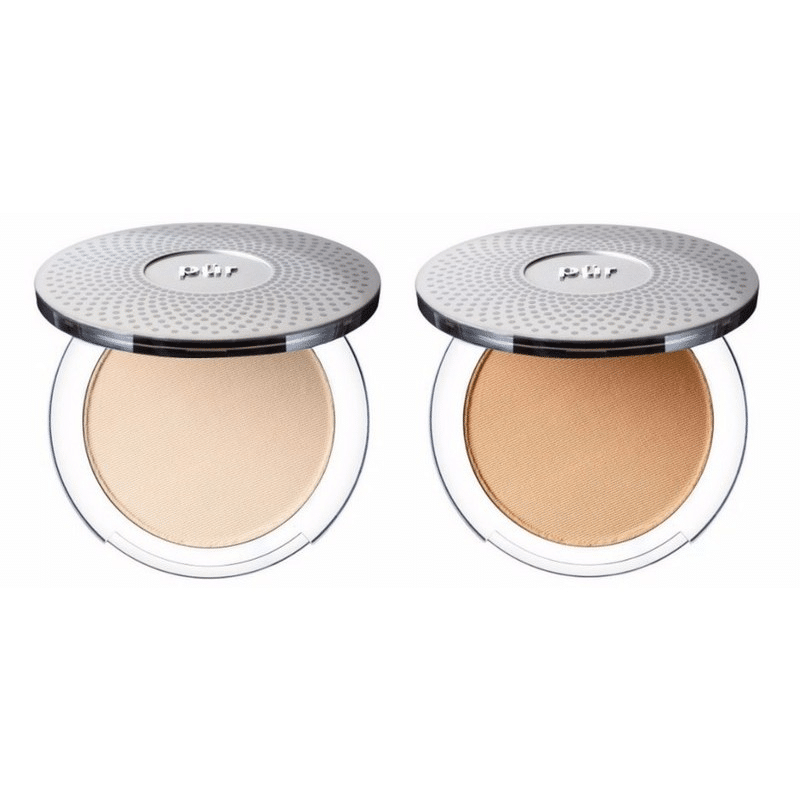 This is a mineral powder foundation that has a lightweight feel and is very easy to apply and leaves no mess on your dressing table. It's an all in one foundation, powder, and concealer with an SPF 15 sunscreen protection that will protect you from the harsh elements when you're outside all day. It has a more breathable feel on your skin and helps to smooth, correct, balance, and plump your skin all at the same time. It has buildable coverage to give you that full coverage looks without causing any breakouts and skin irritations. It contains hydrating shea butter and vitamin E that will keep your skin moisturized without making you look oily while Waltheria extract brightening your dark spots and uneven skin tone as the ceretin complex improves the appearance of your wrinkles, lines, and imperfections.
Pros
Very light on your skin
Doesn't settle on your pores and lines
Doesn't cause any breakouts or skin irritation
Gives you a natural look with great coverage
Cons
The powder disintegrates
The consistency may be different
Verdict
A mineral-based powder foundation that you can easily apply on your skin without feeling thick or cakey.
Conclusion
Having that dewy look is great if you have oily skin and a simple and quick way of achieving that is by applying a matte foundation then dust it lightly with a pressed powder and add a highlighter. However, it's not as simple as that, you need to find the right foundation for oily skin that includes an SPF range that will protect you when out in the sun. The best foundation for oily skin will keep your skin looking fresh without looking greasy. They're long-wearing, won't clog your pores, and will keep your face shine-free without leaving a chalky mask. The Maybelline fit me matte foundation is an oil-free foundation that will stay on all day and hide your imperfections for that flawless clear look without clogging your pores, which makes it a perfect choice if you have oily skin.