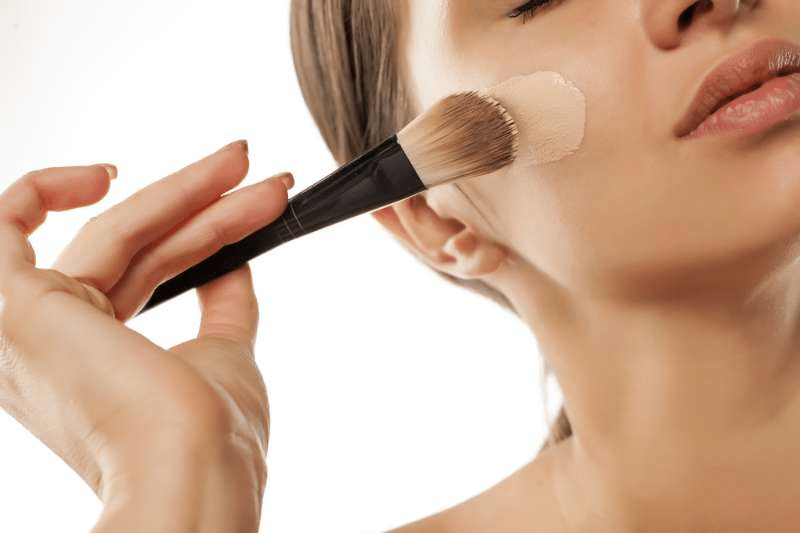 Nonoxidizing foundation for oily skin is ideal if you want to match your foundation to the color of your skin. Find out what causes foundation to oxidize and how you can prevent it with this guide
In 2020, you would think that all makeup companies have figured out the right shades and formula when it comes to foundation. It turns out that swatching our foundation at the store is not enough to tell if a foundation is truly your color.
There is nothing worse than finding what you think is the perfect shade of foundation for your skin only to find out it turns into a deeper color a few hours after application. This can be a little embarrassing, especially if you are at an important event. The makeup process takes a long time, so it can be quite disappointing to walk outside after an hour in front of the mirror just to realize that you have oxidized foundation.
What causes oxidization?
Why does foundation oxidize? Many reasons explain why foundation might oxidize. Your skin type, the type of foundation you use, and your skin care routine play a significant role in how your foundation turns out. If your foundation changes color to orange after application, the reasoning could be as simple as a change in chemical compound due to reaction with foreign substances.
Foundation oxidation occurs when it is exposed to oxygen, which results in a change in appearance. The rate of oxidization will depend on the ingredients in the foundation but it does not occur immediately after you apply the foundation on your face.
Naturally, the minerals found in most foundations and other makeup products make them prone to oxidization. Zinc oxide, iron oxide, and titanium dioxide are some of the most common minerals found in many makeup products. If you find them high up in the ingredient list then they are very likely going to oxidize.
Here are tips that will help you prevent your foundation from oxidizing
Change your skin care routine
Having oily skin is one factor that could contribute to foundation oxidation. If you have oily skin, you need to work out a routine that fits that. The first step is to seek professional advice on a skin care routine that works for your skin.
Typically, oil reducing cleansers work effectively to clean your skin and maintain a healthy, low ph skin. Choose your moisturizers wisely; one that is too rich can cause more oil production, which gives you an undesirable effect. Go for a lightweight moisturizer that will keep your skin healthy.
Whatever you do, do not skip on the toner
As mentioned, facial toner is an important part of any skin care and makeup routine, you should always apply toner before you put on any moisturizer. Facial toner can help balance the pH on your skin and also absorb excess oil that the cleanser might have left. Foundation oxidation will occur less after a toner because of the reduced oil on your skin.
Blot away the excess oil on your skin
This is a step before and after the foundation application. If you have excess oil production, try blotting it away with a clean disposable towel for your face. You can also get oil absorbing blotting sheets to clear the film of oil before and after you apply foundation and finish it off with a translucent powder.
Always use a primer
Primers are oil free gel formulas that are easy to apply on the face. Priming is a necessary step for any skin type because it gives your makeup a hold and helps it last much longer. It also has other benefits, including hydrating the skin, giving an even skin tone, reducing inflammation and redness, fighting fine line and wrinkles, and reducing oil and shine depending on the formula.
You need to apply your primer a few minutes after you put on your moisturizer and right before the foundation. If you have combination skin but your primer is supposed to control oil and shine, you should apply on the oily parts of your face and avoid the dry ones.
The primer places a barrier between your skin and makeup, reducing the chances of oxidization on your skin.
Set your makeup
After applying the foundation, make sure you set it with a translucent setting powder. Setting powder ensures the makeup is locked into place and it also absorbs any remaining oils or moisture that could trigger oxidation by the foundation. One of the benefits of having translucent setting powder is that you can reapply when you feel sweaty or when your skin is producing too much oil, thus preventing oxidation.
How to find a nonoxidizing foundation for oily skin
Check the ingredients on the foundation
If you don't already, you should make it a habit to check the ingredients on your foundation before you purchase. Look out for oil free foundation to reduce the rate of reaction with any foundation. If possible, for foundations with anti-oxidants that will help you fight the free radicals that cause oxidation.
Choose the right foundation
There are multiple foundation formulas in the market today. Finding the right foundation can be confusing but if you want to end up with the right products for your skin. Regardless of how popular a brand is, you don't have to purchase the foundation if it did not work well for your skin at first. In the world of makeup, it is all about getting what works for and your needs. This means you need to get a foundation that matches your skin tone as well as skin type.
Purchase water based skin care
If you have oily skin, you should know that oil based products are a no no for your skin. Professionals recommend you go for mostly water based products across the board. You can also try a more naturally composed formula with light oil formulas. The more you avoid oil based makeup products, the less risk you have for foundation oxidation.
If you can't, find a lighter foundation
Sometimes, brands may have the best foundation formula for your skin except it happens that the foundation tends to oxidize. In this case, you don't have to give up a perfect foundation when you can simply compromise. A brand like fenty has the best liquid foundation, which tends to oxidize a lot but is built for long wear and fighting oily skin.
If your skin is extra acidic and oily, the best thing to do is to go a shade lighter in liquid foundations overall. If you are somewhere in the middle range colors, you could simply choose a foundation that is one or two shades lighter, with the same undertones. When it oxidizes, the foundation will match your skin, and that is the exact look you are going for.
Swatch the foundation
Finding the perfect foundation for your skin is a serious game. Times have changed so you don't have to use trial and error to find your perfect formula. Try three different foundations with the same undertones on your jawline to find the perfect match for your skin. Make sure you check online reviews first for comments on oxidization before you make any final purchase decisions.
Should I throw away my oxidizing foundation?
Good quality foundation does not come cheap. If your foundation oxidizes on the first try, you should try returning it to the store for replacement with a lighter shade. If you cannot return the foundation, no need to throw a perfectly good product away. The good thing with makeup is that you can repurpose them.
Here are other uses for foundation
Contouring
Contouring formulas should be a little bit darker than the foundation to create shadows and highlights on different parts of the face. Your oxidizing foundation could work well as a contour product.
Use the foundation during summer
Some people tend to have darker skin during summer, which is caused by a surplus amount of melanin produced by the skin to protect you from the sun. These are times you should use your foundation to match the color of your skin. This can save a lot of money you would spend trying to switch between two foundations when the weather changes.
Makeup art
Makeup is more than just paint on the face; it is a form of art. You can use makeup for all types of art and illusions on your face. If you love dressing up, cosplay, and more, you could use the foundation for that purpose.
Be careful
The average foundation should last you 12 to 18 months. This means you should not keep a foundation for longer if you are not planning to use it in the future. If you use a foundation after it has expired, it will appear dry, clumpy, more oxidized, and might also cause some major skin issues.
Final word
Using bright powder on your t-zone is a great way to reduce oxidization and also highlight your face. Oxidization can ruin your entire makeup look, which is why you should be keen on the formula before you purchase any brand of foundation.