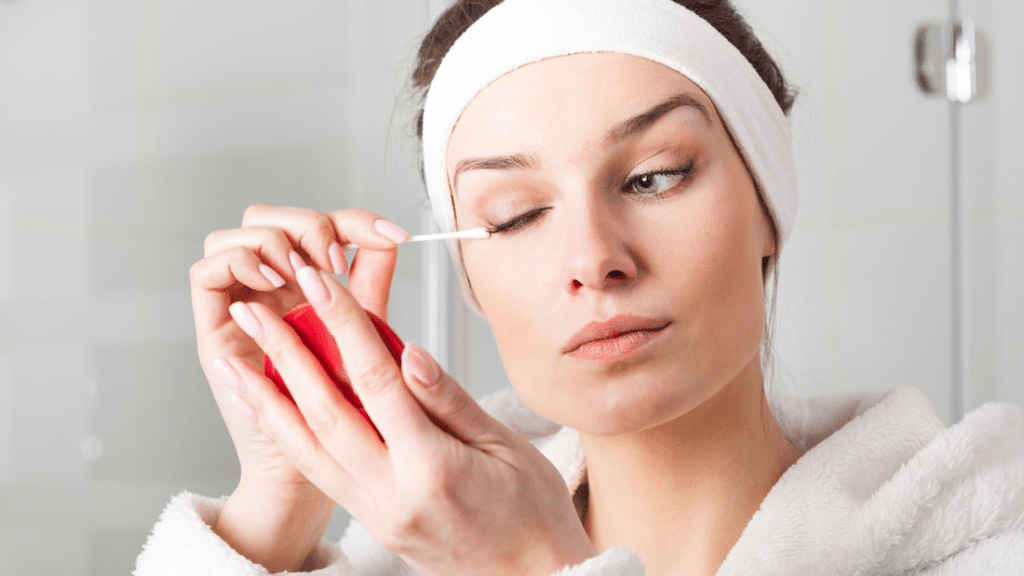 Beauty products are designed to accentuate your look, but bad makeup habits can harm your skin. Your range of products and application methods could increase the risk of acne and wrinkles over time. This article explores whether your makeup could be making you look older.
Wrinkles are creases, folds, and ridges appearing in the skin. They regularly appear as some people get older, although certain habits may increase their likelihood of occurrence. As a natural part of the aging process, the skin will become drier, thinner, and less elastic. It will be more likely to retain ridges formed from facial expressions, causing wrinkles.
You can also increase your likelihood of getting wrinkles by exposing yourself to ultraviolet light. Regularly visiting a tanning booth, sunbathing, and taking up regular outdoor activities will raise your risk of wrinkles. Habits such as smoking and alcohol consumption may also affect your skin in the long term.
But does makeup cause wrinkles? The bad habits can affect your skin over time, increasing the risk of wrinkles. The most common makeup mistake causing wrinkles is stretching your skin when applying products. Your skin is sensitive and may be affected over time with poor application techniques.
You may also struggle with clogged pores, drier skin, and premature aging, all of which could increase the occurrence of wrinkles. Using the wrong products and failing to wash off your makeup before bed can also affect your skin health over time. Skipping out or giving up quickly on necessary products, such as sunscreen, could also influence your wrinkle risk.
Do your makeup habits harm your skin?
Unhealthy makeup habits may cause adverse effects on your skin. You could be at a higher risk of wrinkles, acne, oiliness, and dryness with the wrong use of makeup. Here are the top habits that can increase your likelihood of occurrence of wrinkles.
Stretching your skin when applying makeup
Getting the perfect cat eye might be your ultimate goal, but the effect of stretching your skin to get it could cause wrinkly skin over time. This is also true for the application of other products on your face. You can raise your wrinkle risk by pulling on any part of your face when putting on makeup. Aggressive application could also cause puffiness and broken skin, which may affect your aging. You should consider products and application methods that glide instead of tugging to avoid overstretching your skin.
Using too many products
You need to strike an ideal balance of products to protect your skin. Alongside wrinkle filler, many people will also use sunscreen, eye cream, eye gel, face oil, toner, moisturizer, face wash, serum, and makeup removers.
While this may target smooth, attractive skin over time, it might not be the perfect anti-aging makeup combination for you. You need to strike the right balance, avoiding unnecessary applications. Less is more for makeup, with fewer products lowering the likelihood of aggregation and inflammation. Instead of trying out too many products, you should consider using a few tried and tested alternatives instead. Avoid trying out and giving up on products quickly, as well as believing in a single magic product to do the trick.
Cleaning out your makeup too thoroughly
You should always take off your makeup before going to bed. This will protect your skin from acne, aging, and other effects. That said, you need to do it gently to avoid stretching out your skin or puffiness.
Cleaning your makeup too thoroughly can increase your risk of wrinkles over time. Alongside thorough scrubbing, you should also avoid using strong soaps when getting rid of your makeup. The two could accentuate lines in your skin while stripping it of necessary natural oils. Consider a compatible gentle cleanser and removal technique to protect yourself from wrinkles.
Skipping out on SPF
You should not skip out on sunscreen even when you will spend most of the day driving. Many people opt out against the coverage offered by SPF products, due to the lack of direct exposure to the outdoors. However, even indirect exposure to sunlight can increase the risk of wrinkling. Wearing sunscreen regularly will protect your skin against the UV rays. Of you are planning on going outdoors, applying sunscreen will ensure a higher level of protection.
Makeup habits to protect your skin
The right application habits and products can protect your skin against wrinkles. Here are the top healthy makeup habits for your skin.
Wash off your makeup every night
You should never go to bed with your makeup on. While it can be tasking over time, you need to take off your makeup and wash your face before calling it in. You need to apply a makeup remover and use a gentle facial cleanser to protect your skin. Anything you put on should be taken off at night in a gentle but thorough way.
Find the right products
You should only use ideal products for your skin. Different options will react uniquely to every individual. While some may be ideal for your friends or family, they could be too harsh for you. You need to avoid products that will cause your skin to be too oily or dry. Using the best products will ensure a high level of protection for your skin. You need to try out several alternatives to find an ideal match. If your skin is too sensitive, some mineral based options may be a better fit.
Regularly cleaning your brushes
Your brushes may have bacteria from dead skin cells, sweat, and some makeup products. You need to regularly keep them clean to protect yourself from bacteria. This will lower the risk of wrinkles, acne, and other skin problems. That said, it can be tough to keep the brushes clean. We recommend doing it at least once every month while keeping your makeup station tidy to avoid any bacterial buildup.
Avoid sharing makeup
Even though you might be tempted by the appearance, using their makeup could have an effect on your skin in the long term. You should avoid sharing products due to the likely bacterial buildup. Some products may also be harsh on your skin, even when they work well for those around you. You can ensure protection for your skin by sticking only to your makeup products.
Use sunscreen and moisturizer every day
Moisturizer and sunscreen can be crucial for great skin health, even though they are commonly overlooked. Sunscreen will offer anti-aging protection, while moisturizer can lower the likelihood of dryness caused by certain products. Using both options regularly will ensure comprehensive protection for your skin. If your skin is flaky, you should always use moisturizer before applying makeup. Some products even combined both, saving you some time when applying.
Is your makeup making you look older?
Instead of preventing wrinkles, fine lines, and uneven skin, your makeup could be perpetuating these problems. Here are the top makeup mistakes making you look older.
Failing to blur your face
Even if you already have some wrinkles, the right makeup habits can ensure great protection for your skin. By applying the right products in an ideal way, you can lower the likelihood that your wrinkles get worse. You should consider starting with a flawless base to prevent creasing. The right blurring product will soften fine lines and ensure a more youthful look than any primer could.
Not rehydrating your skin
You should have a face mist at hand to rehydrate your skin. Aside from ensuring your skin stays fresh during the hot midday period, rehydrating can protect it from drying out and forming lines. Rehydration will also prevent your wrinkles and fine lines from standing out, ensuring your skin remains youthful.
Using the wrong foundation
You should always use the right makeup products for your skin. This means exploring a variety of options to find the right match. Using the wrong foundation and applying it in the wrong way can influence your look. You have to find the right base between powder and cream foundation options for your skin.
For many people, powder foundation products tend to accentuate wrinkles, crow's feet, and frown lines instead of leaving the skin hydrated. Using the wrong application method can also affect your outcome. Instead of struggling with a brush, consider using a damp sponge for an airbrushed finish.
Highlighting instead of accentuating and hiding
Dark circles can be harder to hide as you become older. Some creases could also affect your look. Many people make the mistake of trying to highlight these standout parts, which work to make them look older.
Instead, you should use your makeup to hide or blend on these parts to your overall style. You should avoid deep lipstick shades and dark eyeliner colors, as well as using an ideal shadow for your eyes. The right makeup will accentuate and hide your creases, wrinkles, and fine lines for a desired youthful finish.
Final word
The wrong makeup products and habits can increase the likelihood of the occurrence of wrinkles. To ensure flawless and youthful skin over time, you need to pick the right products and habits for you. This means exploring different options to find an ideal range of options, as well as avoiding any mistakes when applying and taking them off. This guide should help you ensure your skin stays healthy and wrinkle free when you use makeup.