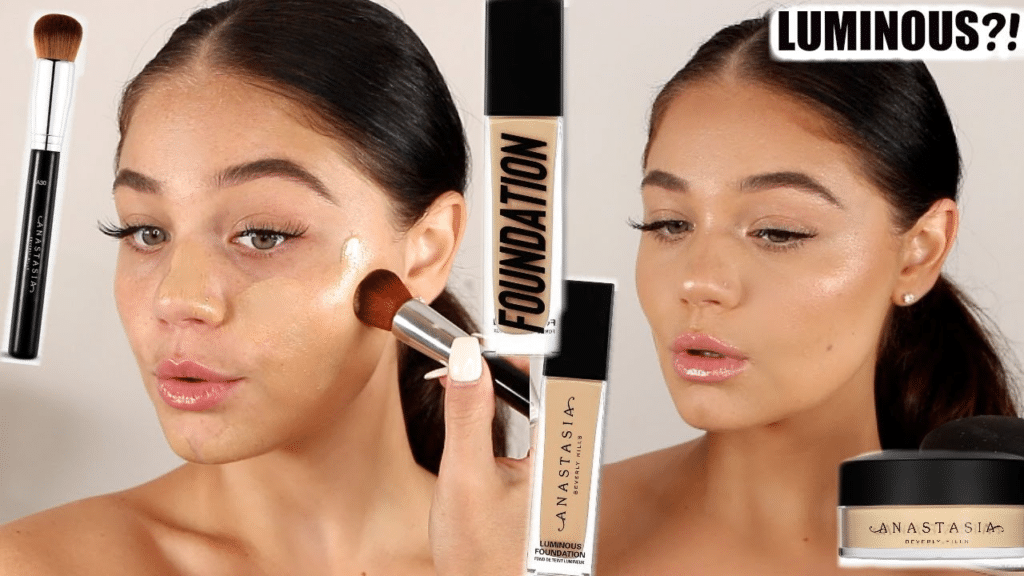 Shopping for the perfect foundation that suits your skin color, your skin tone, and coverage needs, among other personal preferences, can seem to be an endless affair. However, with the right guidance, you can narrow down an ideal foundation for your skin as soon as you walk into the makeup store.
As the lingerie of makeup, you want your foundation to feel like you are not wearing any on your skin. A good quality foundation will melt into your skin effortlessly, softening and smoothening over redness, hyper-pigmentation, acne scarring, as well as uneven skin tone and texture. Like many people know, one size does not fit all when it comes to foundation.
As such, searching for the ideal foundation makeup for your skin should take time since you have to make various essential considerations. If you want foundation that will give you a beautiful and natural look, as well as a soft glow, perhaps you should look into a luminous foundation.
The Luminous Foundation from Anastasia Beverly Hills is a long-wearing formula with medium coverage that is water-resistant and gives a radiant and luminous finish. The foundation is suitable for all skin types and helps in covering blotchiness, discoloration, and skin unevenness while providing your skin with a healthy and glowy look.
What is to be expected from the Luminous Foundation?
Anastasia Beverly Hills is one of the most popular makeup brands in the industry, as many professionals never miss its products in their makeup bags. Many people argue that the brand produces the best eye shadow formulas and eyebrow products on the market.
Released during the summer of 2019, the Luminous Foundation from Anastasia Beverly Hills caused quite a frenzy in the industry. Available in fifty shades, the Luminous Foundation comes in a 30ml stylish and modern glass bottle with a unique hygienic pump that supplies just the appropriate amount of foundation. The glass bottle has a bombastically large printing of FOUNDATION on it to assist makeup artists, regular people, and other professionals in easily identifying it in a sea of the brand's other products.
Five key features of the Luminous Foundation
Anastasia Beverly Hills Luminous Foundation has several unique features that make it a favorite among many. Let us quickly delve into five of its main features.
It is suitable for all skin types
The Luminous foundation is suitable for all skin types, including sensitive skin as it is dermatologically, clinically, and ophthalmologist tested. It is also noncomedogenic, meaning it is breathable as it does not clog the pores of your skin. More so, its unique formula does not contain any paraben, gluten, mineral oil, talc, alcohol, or gluten, reducing the chances of sensitive skin reacting with the product. The foundation also claims to be vegan and cruelty-free.
Similarly, everyone can find their ideal color shade from this foundation as it has 50 shades categorized in five shades, including deep, tan, fair, medium, and light. It also comes in three undertones, neutral, warm, and cool, making it super easy for anyone to find their ideal foundation color shade as long as they know their skin type and undertone.
Longwear foundation formula with medium coverage
Nothing is as bad as looking in the mirror just to find your foundation is sliding from your face, along with the rest of your makeup. You want your coverage to stay put and remain water and sweat resistant until you decide to take it off. The Luminous Foundation from Anastasia Beverly Hills contains a water-resistant long-wearing formula with medium coverage, ideal for giving your skin a radiant, natural, and luminous look.
Due to its long-wear formula, this foundation will stay put for a maximum of 12 hours, without any significant touchups. However, it is advisable to put on minimal makeup when going for a luminous look for a more beautiful and naturally radiant look.
Weightless formula
Being that foundation is essential when it comes to doing your makeup, it can be challenging to find a brand that stays put all day and is also easy to apply without it looking cakey. The Luminous Foundation has a unique and lightweight formula that does not smudge, transfer, or clog your pores. It is an entirely weightless and gorgeous option that delivers impressive pigmentation, and you will still feel like you are not wearing any makeup.
Luminous finish
The Anastasia Beverly Hills Luminous Foundation enhances your natural beauty by giving it a soft glow that brightens and adds radiance to your skin. Its unique formula provides you with a medium to full buildable coverage that allows the best bits of your skin to shine through, ensuring you have a flawless and luminous look. This foundation masks unevenness, discoloration, blotchiness, and redness, ideal to ensure your skin looks naturally healthy throughout the day.
No flashback
One of the worst things that can happen is taking photos to document your outstanding makeup skills, only to find that your photos suffer from severe ghost face, and you have a dusty white cast from your forehead all the way to your chin, including under your eyes. The outcome is entirely different from what you see in the mirror. The contour you worked on tirelessly looks thoroughly washed out, and the entire look is basically ruined.
Popularly known as flashback, the dusty white casts on your face in the pictures originate from makeup that contains SPF components, such as zinc oxide and silica powder. While SPF is great for daytime wear as it gives you protection from the sun, it also reflects light off the camera's flash, resulting in ghost face or flashback.
Luminous Foundation from Anastasia Beverly Hills is a long-wearing liquid foundation that does not have flashback, meaning you can take beautiful pictures without worrying about ghost face. It is always best to use a primer, especially if you have oily skin, as well as setting powder for the best results.
Pros
Ideal for all skin types, including sensitive skin
Clinically and dermatologically tested
Free of paraben, alcohol, talc, mineral oil, gluten, and oil
Photo-friendly
Longwearing and water-resistant formula with medium coverage
Available in 50 different color shades, five shades categories, and three undertones
Gives your skin a fresh, vibrant, and luminous finish all day
Cons
The foundation may break apart with sweat after a while of use on oily skin
Final verdict
The Luminous Foundation from Anastasia Beverly Hills is an exceptional liquid foundation that is weightless and long-wearing to give your complexion a healthy, natural-looking, and radiant glow. It is water-resistant with medium buildable coverage and is ideal for all skin types. If you have dry skin and you are looking for a foundation formula that will give you flawless and luminous finish, I would definitely recommend Anastasia Beverly Hills Luminous Foundation.