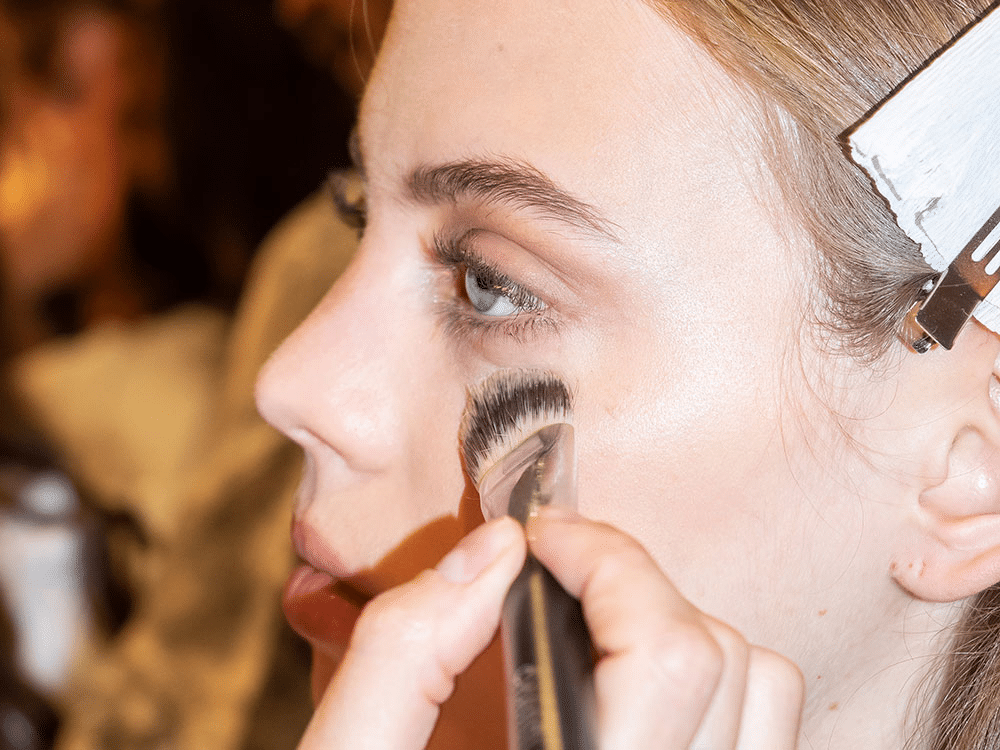 Can you use liquid foundation without powder? It depends on your skin type, the foundation type, the look you are going for, and more. This article offers insight on liquid foundation, how it pairs with powder, and more.
Liquid foundation and powder is an excellent combination but may not work the same across different skin types. The ideal foundation will depend on the oily, normal, dry, and mixed skin types of users. The wrong foundation can be heavier, cause your skin to dry out or clog your pores. Powders are meant to dry out excess oil on your face, brighten the T-zone, and help contour the cheekbones and more.
If you are interested in an ideal foundation for your skin, there's a high chance you've been overwhelmed by the options. While there are many liquid, cream, and powder alternatives available, finding the right foundation will rely on trial and error for many people. For starters, you have to choose an ideal option from the three to suit your skin. You also have to pick the right shade for your skin to avoid a makeup mix up, although this is easier than finding an excellent choice for your skin type.
On the other hand, the right foundation could ensure dewy and moisturized skin throughout the day without the help of a powder. Finding an ideal match will be crucial to your desired look. So, is powder and liquid foundation combination ideal for your skin? Can you use liquid foundation without powder? We explore that and more in this article.
The benefits of using liquid foundation
Liquid foundation is a popular makeup choice. It is available in oil, cream, and water based formulations to achieve heavy, medium and light coverage depending on your needs. Most liquid based foundation options are infused with moisturizers which help keep your face dewy and fresh when applied.
Liquid foundations are better suited for unique and sensitive skin types. They are easier to apply than powder options, with the products blending easily onto your skin during application. It also offers a colorful finish and conceals wrinkles and fine lines on your face. The heavy coverage offered will protect against particles in the air and enhance your well being.
That said, some liquid foundations will look shiny and wet in a sweaty environment, making it a poor choice for some wearers. The wrong liquid foundation could also look artificial and cakey, instead of neatly done. Moisture and oil can also accumulate in wrinkles and lines after a few hours, which would make them stand out more. Some heavy coverage liquid foundation has also caused clogged pores and skin blemished for some users.
Liquid foundation is ideally suited for medium to dry skin. The foundation may cause the skin to look dewy, resulting in a greasy finish for people with oily skin. It is easy to apply, keeps your skin moisturized, and covers wrinkles and fine lines very efficiently. Thanks to the thicker formula, an ideal liquid foundation could last the whole day.
How you can use powder with liquid foundation – the benefits
Powder works as a great mattifier
Powder works well to counteract the excess production of oil on your skin. If you have oily skin, you can use powder on top of your foundation to reduce the amount of oil being produced that would otherwise mess up your foundation.
Combination skin features patches of other skin types across your face. If you have this type of skin, such as an oily T-zone, you might have trouble finding foundation that meets your specific needs. You need to find a product that will keep your oily spots under control while moisturizing and concealing your dry spots. You can use a primer to keep your oil in check before using foundation. You should also consider mixing foundation options for different patches.
Counteract sweat
When you are in high stress situations, it is easy to sweat your makeup off. To prevent this, you should use powder on your foundation. This combination works well with any type of liquid foundation. When your face is getting sweaty and is about to melt off, all you have to do is lightly dab a layer of translucent powder with a powder brush to get rid of the seat and leave your face looking fresh.
Prevents your make up from running
Going over your make up with translucent powder could save you a lot of trouble. For instance, adding a little bit of translucent powder over your shadow brush before you place a layer of mascara under your eyes will make your work easier and give you better results.
To conceal blemishes
While powder is essentially dry, it features adhesive ingredients that help it stick to your skin when applied. Powder is a great choice to use in place of concealer. Tinted powder can be used to conceal blemishes and spots on your face thanks to its high concentration of pigment. Like liquid options, there are enough powder alternatives available to find an ideal pigment.
For more coverage
Applying powder before and after your liquid foundation offers more coverage than using liquid foundation alone. It is better suited for young and oily skin, with the powder absorbing oily residue when applied.
The benefits of using powder with your liquid foundation
Powder is great for oily skin
Powder can be problematic for dry and combination types. It offers a natural and light coverage while controlling excess oil. If you have oily skin, your makeup will tend to separate and look excessively shiny as the day progresses. This can be challenging to keep up throughout the day. Powder is perfect for adding to any foundation because it remains stable and does not trap moisture.
Powder is safe for the skin
Mineral-based powders feature a lower number of preservatives and additives when compared to other makeup products, including foundation products. This makes them an ideal choice for your skin health. It will stay put during warm weather, ensuring you look great even when some sweat is involved. Lastly, it is effortless to put on and can be reapplied during the day without a fuss.
Liquid foundation and powder on dry skin
Dry skin can be tough to makeup, thanks to a rough and textured appearance. Using the wrong foundation could affect your look as well as the state of your skin. Liquid foundation that mattifies when it dries up is not ideal for people with dry skin.
If you are going for a liquid foundation, choose one that results in a dewy and moisturizing finish. Because powder acts as a mattifier, you should avoid including powders in your makeup routine. Unlike powders, some liquid foundation is created to trap moisture and protect you from being too flaky. You should consider foundation options that are moisturizing and easy to apply. This means liquid foundation without a powder combination would be better suited for dry skin.
What problems should you expect when using powder with liquid foundation?
You need a brush to apply powder foundation seamlessly. The application method can be challenging for beginners, even with the right tools. You will have to practice and could come off with a splotchy finish or incomplete coverage as you learn.
While this can be overcome with time, you still need to apply powder in a specific technique to get an ideal look. It can take some time to grasp the application technique, but it should be easier to put on well over time.
The process is challenging even when you have the appropriate brush technique for application. Some powder products will also be messy, and this can affect your overall appearance when done. It could also force you to put on your makeup before getting dressed. The foundation may also settle in fine lines and wrinkles, affecting your ability to conceal them.
The top foundation tips you need to know
Have you figured out the best foundation for your skin? You need to find the right shade and apply it well to perfect your complexion. Here are a few tips to keep in mind.
Watch a lot of tutorials
The best makeup products and habits could be lying in the hands of content creators. Even though you may not have the same routines, watching a lot of tutorials can be a great way to pick up on extra tips for your own.
Set your foundation
You can make sure your foundation stays on throughout your day by setting it in place. Different setting powders and sprays are available to help protect your makeup from running.
A little goes a long way
Overusing your foundation can have you layered and caked up. This will affect your desired look negatively. Instead, consider dotting foundation on key areas in your face and spread out as you build coverage. You will be better able to achieve a natural look this way.
Final word
So can you use liquid foundation without powder? Your choice will depend on a combination of different factors, including your skin type, the formula of your liquid foundation, and the results you want to achieve in the end. If you have dry skin, you should definitely stay away from using powder with your liquid foundation as it will cause more drying, caking, and flaking. People with oily and combination skin tend to benefit a lot when it comes to using liquid foundation with powder in terms of long wear.