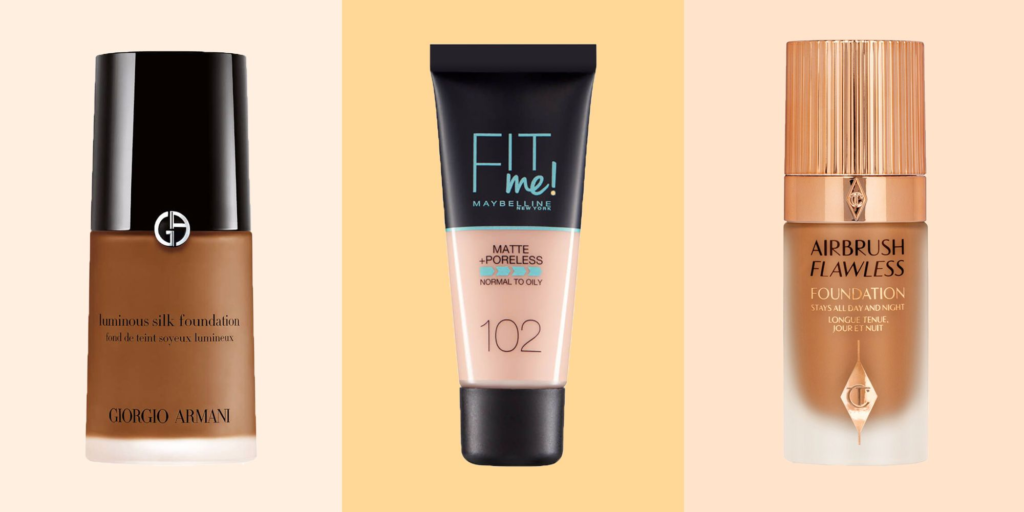 As you grow older, your skin loses collagen and elasticity which causes uneven texture, fine lines, enlarged pores, and wrinkles. The foundation you were using in your 20s to cover up your imperfections will not work anymore, but the best foundation for aging skin over 60 will come in handy.
Using the right skincare routine, you can still look younger than your years, but you will need a foundation for aging skin over 60 to hide your wrinkles, dark spots, fine lines, and other imperfections. With so many products in the market for you to choose from, there are a few things you need to keep in mind.
Skincare tips for mature skin over 60
Exfoliate
Before applying foundation, you should prepare your skin by exfoliating to remove the dead skin to make way for smooth fresh skin for your foundation. Exfoliation also helps to improve blood circulation and give you glowing skin. It will also make it easier to apply your makeup.
Moisturize
Next is to moisturize your skin as the hydration allows the ingredients in your foundation to get deeper into your skin. Look for hydrating ingredients like hyaluronic acid. Even if you have oily skin, keep it moisturized because it doesn't increase but manage excess production of sebum.
Wear sunscreen
Buy a foundation that contains sunscreen if you don't usually apply sunscreen daily. However, if you don't skip sunscreen in your daily skincare routine, then you can get a foundation without SPF. This means you will need to apply sunscreen separately under your foundation and makeup.
Use a primer
Primers are very useful for aging or mature skin. After moisturizing your face, apply your primer to create a protective barrier between your skin and makeup so that your pores don't clog and cause breakouts. You're also able to wear your makeup for longer. Go for a primer that is loaded with dimethicone an ingredient that will make your skin smooth and velvety and fill your wrinkles and lines making your skin surface smooth and leveled for the foundation. Also, look for a foundation with light-reflecting properties to activate a natural healthy glow that won't highlight your lines and wrinkles.
Use a damp sponge to apply your foundation
A damp sponge maximizes hydration when applying your foundation to give you a dewy and hydrated skin and helps you to avoid a streaky application. You can also opt to use your fingers and just pat and press gently to create a smooth texture.
Avoid taking hot showers
Taking a hot bath will relax you, but it will also strip your skin of its natural oils. If you spend more than 5 minutes in the bathroom it can dry out your skin so instead use lukewarm or cold water when taking a shower.
Anti-aging ingredients to look for in foundation makeup
Hyaluronic acid
This is an important ingredient that helps to reduce signs of aging. This acid is naturally produced by your body and found in your connective tissues and the fluid in your joints and skin. It's important in lubrication and tissue cushioning.
Vitamin C
As your skin ages, there is a reduction in your body's production of collagen and elastin. The antioxidants found in vitamin C helps to increase the production of collagen and reduction in your wrinkles and blemishes.
Green tea extract
Tea contains polyphenols that help in fighting free radicals. Lotions and creams that contain polyphenols help to slow down the signs of aging on our skin and reduce skin sagging and wrinkles.
Retinol
Retinol is got from vitamin A and helps to enhance the color and tone of your skin and reducing spots and wrinkles on your face. It will also help to increase the production of collagen and maintain your skin's plumpness.
Coenzyme Q-10
This is an enzyme that is produced by your body and acts as an antioxidant and helps in reducing the wrinkles that form around your eyes. As you age there is a reduction in the production of this enzyme which makes your skin cells more vulnerable to damage from free radicals.
Which is the best foundation for different skin types?
Oily aging skin
An oil-free foundation that offers medium coverage and a full coverage powder foundation would be perfect for this type of skin. Both foundations should have anti-aging and hydrating properties. The medium coverage foundation will hydrate your skin without adding more oil then, setting it with the full coverage powder foundation to absorb any extra oil on your skin for 24 hours and cover areas the medium coverage foundation couldn't cover.
Dry aging skin
Go for a liquid foundation that has anti-aging and hydrating ingredients and one that offers full coverage because it will help you cover your dry skin patches, age spots, and other visible imperfections on your skin. A liquid foundation is perfect for filling your wrinkles and fine lines, however, don't use the matte liquid foundation as it will dry your skin even more.
Combination aging skin
Use a liquid foundation that is oil-free and is good in keeping your skin hydrated and great for anti-aging. It will keep your dry patches hydrated while absorbing the oil from the oily patches. For best results go for the one that offers full coverage.
Habits that can cause your skin to age faster
Long exposure to the sun
The process where your skin ages after being exposed to the sun is called photoaging. The sun produces UVA and UVB rays that are harmful to your skin and most early signs of skin aging are a result of exposure to the UV rays. To protect your skin from damage caused by exposure to the sun's rays, use a foundation with SPF.
Smoking
Smoking does a lot of damage to your skin by making it drier by creating carbon monoxide that displaces the oxygen that your skin needs. Cigarettes contain nicotine that decreases the flow of blood to your skin causing it to become pale and dry. It also reduces vitamin C in your body that keeps your skin moisturized and plump.
Lack of exercise
Daily exercise keeps your muscles toned and increases blood flow which keeps your skin vital and nourished.
Consumption of alcohol
Alcohol I harmful to your skin as it dilates your blood vessels which increases blood flow at the surface of your skin which results in broken vessels and redness on your skin surface.
Table for the best foundation for aging skin over 60

| Foundation | Coverage | Check on Amazon |
| --- | --- | --- |
| | Buildable coverage | |
| | Medium to full coverage | |
| | Full coverage | |
| | Full coverage color correction | |
| | Natural, pure high coverage | |
| | Natural-looking buildable coverage | |
Maybelline fit me matte + poreless liquid foundation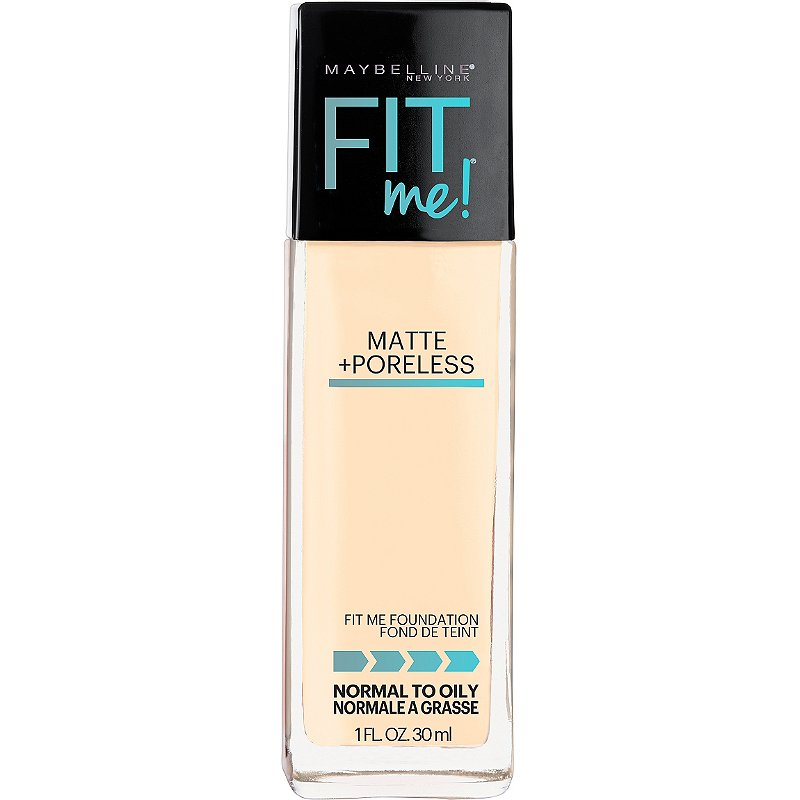 A popular liquid foundation makeup especially if you have normal to oily skin. If you're looking for a normal-looking medium coverage liquid foundation, this is your best choice. This foundation will refine your pores to give you a classy matte finish that is long-lasting. It will keep your skin well hydrated and hide your fine lines, wrinkles, pigmentation, and other blemishes on your skin. It also controls shine and you don't have to worry about it clogging your pores so you can expect an oil-free look. It's very easy to blend and has great coverage. This foundation also has a wide range of skin tones with buildable coverage to give you a flawless natural-looking finish. You can use your fingers, sponge, or brush to apply it.
Pros
Has great coverage
Doesn't settle on your lines or wrinkles
Affordable and light to wear
It blends easily and stays all-day
Doesn't irritate your pores or acne
Cons
Might make your skin dry
The shades might be confusing
Verdict
A very easy to blend liquid foundation that is great for aging oily skin. It will keep your skin well hydrated but it won't clog your pores and will give you great coverage so that all your blemishes will be well hidden.
Covergirl and Olay simply ageless liquid foundation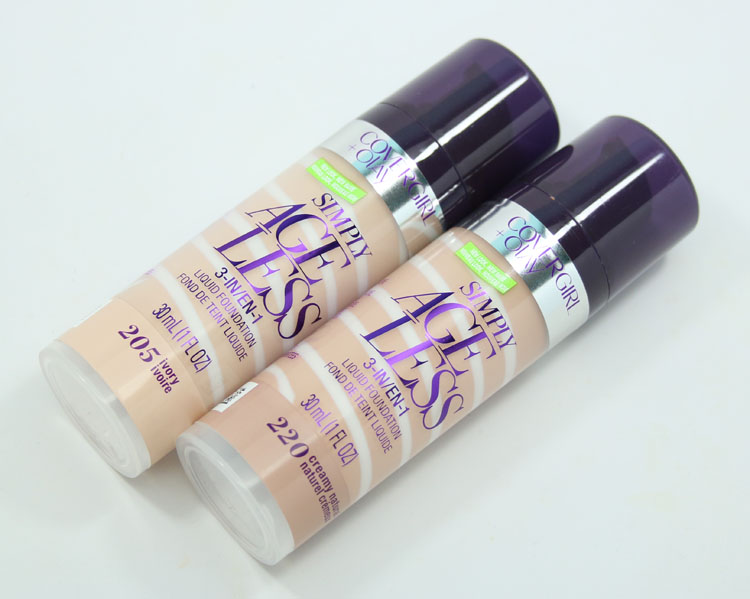 This is an anti-aging foundation that will help reduce the look of your lines and wrinkles to give you a smoother and younger-looking complexion. It's lightweight so you won't feel like you're wearing anything and helps with your dark circles and uneven skin tone. This foundation is formulated with hyaluronic acid and vitamin C. These ingredients are mostly found in face moisturizers and serums that are great at hydrating your skin-boosting your skin's moisture levels giving you radiant and healthy-looking skin. Your skin will also feel plump and dewy so you'll be able to achieve a more natural and even skin tone.
This formula will also have the perfect blend of ingredients that will enhance your skin texture and help with problems with dark circles, enlarged pores, etc. the formula will also improve your skin's elasticity and firm your skin while helping to reverse any skin damage so you can have your younger-looking skin again. It comes in multiple shades and it's very affordable.
Pros
Feels very light and weightless on your skin
Doesn't settle on your lines or wrinkles
Helps to hydrate your dry spots
Covers your blemishes very well without looking heavy
Goes on smoothly and easily
Cons
Has a slight fragrance that's not good for very sensitive skin
Verdict
A great anti-aging foundation that is formulated with the perfect blend of ingredients that will keep your skin hydrated to keep it looking young and healthy for that smooth and younger-looking complexion.
Maybelline New York instant age rewind eraser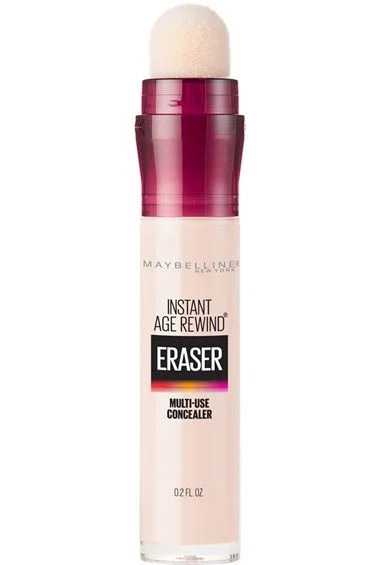 A great makeup treatment that is formulated with active ingredients and a patented micro-corrector applicator that fills and smoothens the imperfection on your skin surface. The formula is super-concentrated with goji berry and collagen that helps to tighten and improve your skin's elasticity reducing the appearance on fine lines and wrinkles on your face. It has an SPF of 18 and antioxidants so your skin is protected from sun damage and it has an anti-microbial system so your skin is adequately protected. This foundation blends very easily with your skin to give you that smooth and youthful look.
Pros
Erases your dark spots and wrinkles
Blends your skin tone perfectly
Dries quickly and stays on all-day
Keeps your skin hydrated but not oily
Cons
May not provide full coverage
Sometimes it's hard to get the foundation out of the bottle
Verdict
An anti-aging eraser foundation that is formulated with a patented micro-corrector applicator to fill and smoothen your imperfections and a blend of active ingredients to tighten and smoothen your skin.
IT cosmetics your skin but better CC cream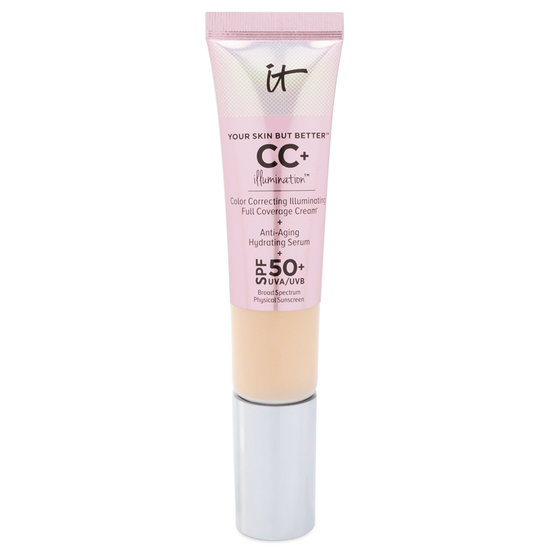 This is a full-coverage color-correcting cream and anti-aging foundation that will also protect your skin from sun damage. It contains great ingredients that include hyaluronic acid, ascorbic acid, hydrolyzed collagen, niacin, biotin, aloe leaf extract, and other effective ingredients that have anti-aging properties. It also contains a lemon peel oil that is very effective in treating hyperpigmentation. This foundation has a rich creamy texture that spreads very well on your skin and doesn't settle on the creases or wrinkles on your skin or exaggerate your pores. It offers full coverage that stays put to give your skin a beautiful glow and an even complexion. It has an SPF of 50+ which means your skin is well protected from the sun's rays. If you don't like to wear too much makeup or none at all, this is a great foundation for you.
Pros
Goes on smoothly and very lightweight
Provides great coverage with good color
It lasts the whole day
Has a nice smell
Cons
A bit pricey for very little product
Too light for darker tones
Verdict
A full-coverage anti-aging foundation for mature skin that is formulated with great ingredients that will help to conceal your wrinkles, fine lines, and dark spots, protect your skin from sun damage and treat hyperpigmentation to help your skin feel beautiful and young again.
Bella Mari natural moisturizing foundation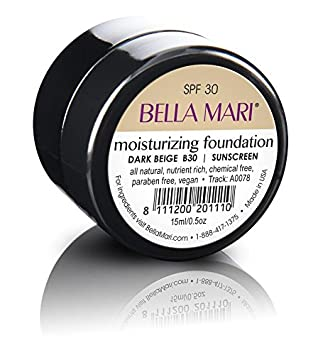 This is a natural, pure, high coverage foundation with a mineral-based SPF of 30 and formulated with organic ingredients. It has a lightweight texture so you won't feel heavy on your skin. It will give you even-looking skin in just one application that will last all day. This plant-based formula doesn't contain parabens, dyes, talc, or synthetic preservatives. This foundation not only contains natural minerals but also antioxidants that will provide coverage, sun protection, and protection from free radicals.
The formula isn't greasy or heavy and it does a great job of concealing your large pores, acne scars, dark spots, and other blemishes while still keeping your skin moisturized. This moisturizing foundation contains powerful ingredients like organic burdock root, bilberry leaf, geranium oil, and other nourishing ingredients. If you care about the environment and your skin, this is the best foundation for all skin types including sensitive and delicate skin.
Pros
Hides large pores and acne scars without feeling greasy or heavy
It moisturizes your skin without feeling oily
Good sun protection
Has a pleasant smell
Cons
May cause itchiness and skin irritation
My at times be difficult to apply
Verdict
A great organic foundation formulated with organic ingredients to provide your skin with enough moisture, good coverage, and SPF 30 protection for all types of skin.
Almay smart shade anti-aging skintone matching makeup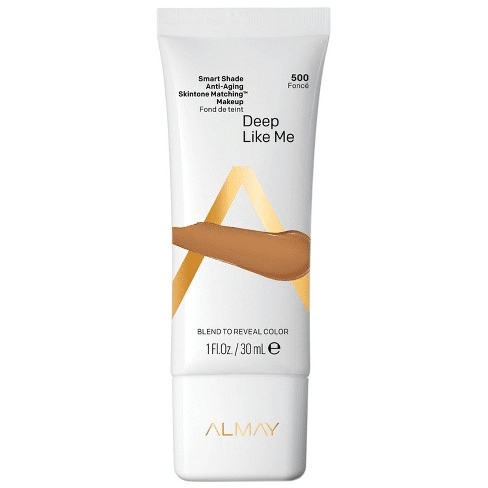 This is a lightweight liquid foundation with abroad spectrum sunscreen of SPF 20 for sun protection and a formula that will reduce the appearance of lines. This foundation is formulated with unique ToneMimic shade-sensing bead technology that is activated on application. It has a white color when you squeeze it from the tube then transforms to the perfect tint when it blends with your skin. Once the foundation blends with your skin it gives you a natural-looking, buildable coverage with no streak issues. It will hide all your imperfections without settling into your lines and creases. It has 6 shades that are all hypoallergenic so you can use it on sensitive mature skin without worrying about getting an allergic reaction.
Pros
You only use a small amount
It's lightweight
Doesn't settle on your wrinkles and fine lines
Very easy to apply with your fingers
Cons
Offers medium coverage
May not be ideal for very pale skin
Verdict
An intuitive liquid foundation that adjusts upon application to match with your skin tone and helps to reduce the appearance of your fine lines and wrinkles while protecting your skin from sun damage.
Conclusion
Many skincare products are formulated to provide full coverage and hydration for aging skin over 60. So whether you're trying to hide age spots, wrinkles, dryness, fine lines, or any other imperfection to give you younger-looking skin, the best foundation for aging skin over 60 will be a great investment. Maybelline fit me matte + poreless liquid foundation is a great foundation that will provide great coverage to cover all your blemishes while keeping your skin hydrated without making it oily so your pores don't get clogged.