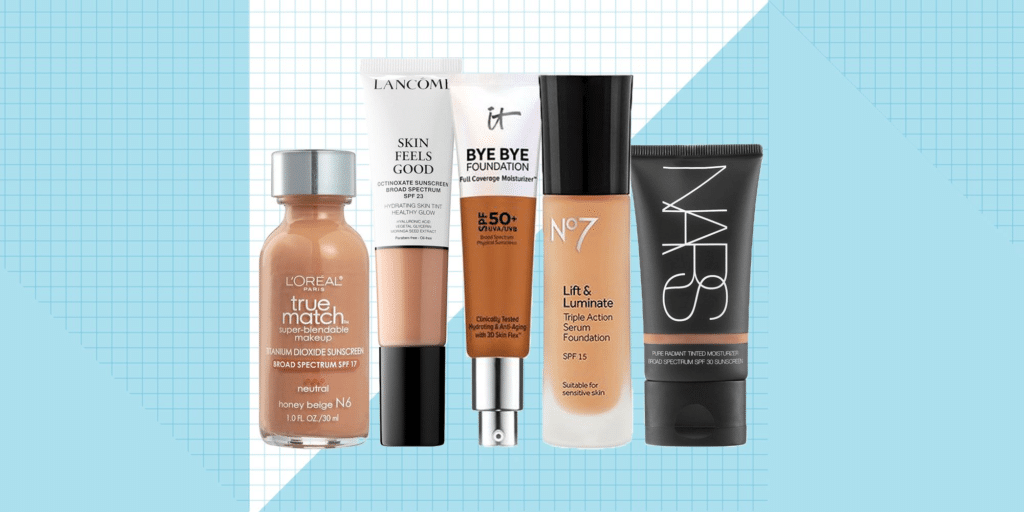 Your skin will not stay young forever and since you can't stop the aging process you can try your best to slow it down. What you apply on your face can help in keeping your skin young for longer. The best foundation for dry skin over 50 can help in reducing the wrinkles and fine lines on your skin.
As your skin matures, it requires more nutrients than when you were younger. Adding a foundation that is formulated for skin over 50 can benefit your skin because your skin starts to lose moisture very fast so it needs to stay hydrated. It will also provide you with good coverage, reduce your pores, wrinkles, and dryness on your skin.
Types of foundations for mature skin over 50
There are different types of foundation for all types of skin types, but cream and liquid foundations are the best for mature skin. Your aim is to achieve good coverage using a little amount as possible of the product because less is always more when dealing with mature skin.
Cream foundation
Cream foundations are more transparent and provide better coverage for your aging spots and protruding capillaries. You won't need as much concealer as you would hide such blemishes as you would with a liquid foundation. However, if you apply a little more concealer than you should, you will look caked. Cream foundations have moisturizing properties that are beneficial if your skin tends to dry up quickly. You can mix your cream foundation with a primer to adjust its consistency if it's a bit too heavy for you.
Liquid foundation
If your complexion has very few blemishes, you can use a liquid foundation to cover up these minor flaws and you might not even need to use a concealer. However, if you're applying too many layers, you should think of switching to a cream foundation. So, whether you're using a cream or liquid foundation, you must get one that matches your skin for the best results.
Here are some things you need to know when using the best foundation for dry skin over 50.
Avoid using heavy mattifying formulas
These can easily settle on your wrinkles and fine lines making them look more pronounced. Thicker, matte foundations are formulated to give you a fuller coverage if you have age spots, uneven tone, and other blemishes because they contain lots of pigment. If you don't want to look cakey after a while looks for a foundation with hyaluronic acid or a moisturizing ingredient like glycerin to help with the dryness.
Go for lightweight formulas
As your skin continues to become drier and your hormone levels take a dive, a foundation with a water-based formula with hydrating properties or satin finish liquid foundation is a great choice for your skin. Foundations with a dewy luminous foundation and sheer coverage work best if you're concerned about your fine lines and wrinkles.
Remember to exfoliate
Make this your nightly routine at least 2-3 times a week. When you regularly wash off the dead skin, your makeup will go on more smoothly which means you will use less and you will have a fresh look. Your skin will also readily absorb the moisturizing oils, antioxidants, and collagen from your skincare products.
Change your skin shade
As you age, your complexion tends to grow paler, so matching your skin tone with an exact shade may leave you looking pasty. If you're light-skinned, you can use warmer based shades that have fewer pink undertones to counteract the ruddiness on your skin. You can also mix your current shade with the next darker shade.
Use a damp sponge to apply your foundation
This will help to smooth the foundation on your entire face and avoid streaky application.
How to apply foundation on mature skin
Apply a moisturizer
To ensure you have a flawless application of your foundation, you should use a moisturizer that will not leave your face greasy and interfere with the texture of your foundation. Moisturize around your eyes to brighten the dark circles and reduce the appearance of wrinkles. Stimulate your face with a massage before application to get your blood flowing and give your face a bit of a glow.
Get the right primer
The right primer will help to blur the lines so you won't need to use as much foundation. Go for primer formulas that feel gentle on your skin and are not too mattifying or too drying because some will make your skin look drier. You can also opt for a balm-like primer that will hydrate your skin and still keep your makeup in place.
Customize your coverage
Less is more is a good rule when it comes to applying foundation, but if you want more coverage liquid thin foundation may not be what you're looking for while the heavy thick formula will exaggerate your lines and wrinkles. To achieve the coverage you want and ensure a natural finish, go for a buildable formula that you can easily layer on top of each other and still give you good results.
Look for hydrating foundations
Mature skin tends to be drier so it needs a lot of moisture and matte finishes aren't good at this. Go for dewy formulas with yellow undertones to warm up your skin and make you look younger.
Conceal and brighten
To conceal the dark circles and crow's-feet under your eyes, use a formula that will give you coverage without looking cakey or dry. Go for a thin highly pigmented concealer for coverage under your eyes and you won't need to use powder.
Set your base
To set your flawless-looking makeup in place, apply a finishing powder to reduce shine and the appearance of imperfections and lines for brighter-looking skin.
Table for the best foundation for dry skin over 50

| Foundation | Coverage | Check on Amazon |
| --- | --- | --- |
| | Medium coverage | |
| | Full coverage | |
| | Full coverage | |
| | Buildable coverage | |
| | Medium to full coverage | |
| | Medium to full coverage | |
| | Medium coverage | |
L'Oreal Paris makeup infallible liquid foundation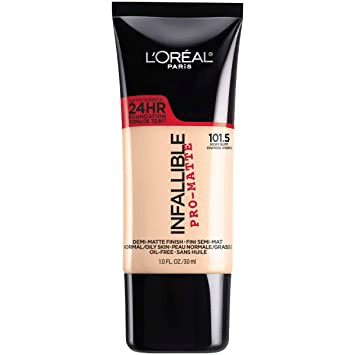 This is a lightweight and creamy foundation that goes on smooth to give you a demi-matte finish that will last the entire day without worrying about your face looking dull. You can wear it to work during the day and even in the evening when you're going out to a party and you ill still look radiant. It does a great job of hiding all your imperfections to give you a clear smooth complexion with a natural to full coverage.
This is a great foundation that contains a formula ideal for normal to dry skin because of its hydrating ingredients that will help keep your skin moisturized and help fight aging. It smoothens out your fine lines and leaves you with a long-lasting glow. With only one application you can get a firm and tight skin and even help to get rid of wrinkles, fine lines, freckles, and blemishes that appear on your aging skin to give you a younger look.
Pros
Great for oily skin
It's light and comfortable on your skin
Covers your skin imperfections very well
Offers a full coverage
It stays matte all-day
Cons
Limited color shades
It dries very quickly
Verdict
A lightweight foundation that you can wear all day while keeping shine at bay. It will help to hide your imperfections very well and give you a tight and firm skin.
Neutrogena hydro boost hydrating tint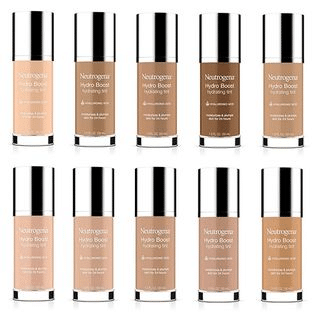 This is a liquid foundation makeup that has a lightweight water-gel formula that contains hyaluronic acid known for its hydrating and plumping properties for your skin. It will boost your skin hydration while evening out your complexion for 24 hours thanks to its breathable water-gel formula. This weightless and oil-free makeup is non-comedogenic so it won't clog your pores and helps to improve your skin's suppleness with time. This foundation will not only hydrate your skin, but it will also give it an even coverage so that your dark spots are no longer visible. It has a highly blendable formula that makes it easy to smooth it out on your skin and it doesn't shine so it sets well and you don't need powder which makes it perfect for mature skin. It's available in 10 different shades that offer enough coverage.
Pros
You can wear it for 24 hours without reapplying
A small amount goes a long way
Doesn't leave a greasy residue on your fingers
Offers the perfect coverage all-day
Keeps your skin moisturized
Cons
Not ideal for super dry skin
Doesn't have a wide variety of shades
Verdict
A lightweight liquid foundation that is oil-free so it won't clog your pores and has a water gel formula with hyaluronic acid that will keep your skin hydrated to give you a younger more supple skin.
Revlon age-defying firming and lifting makeup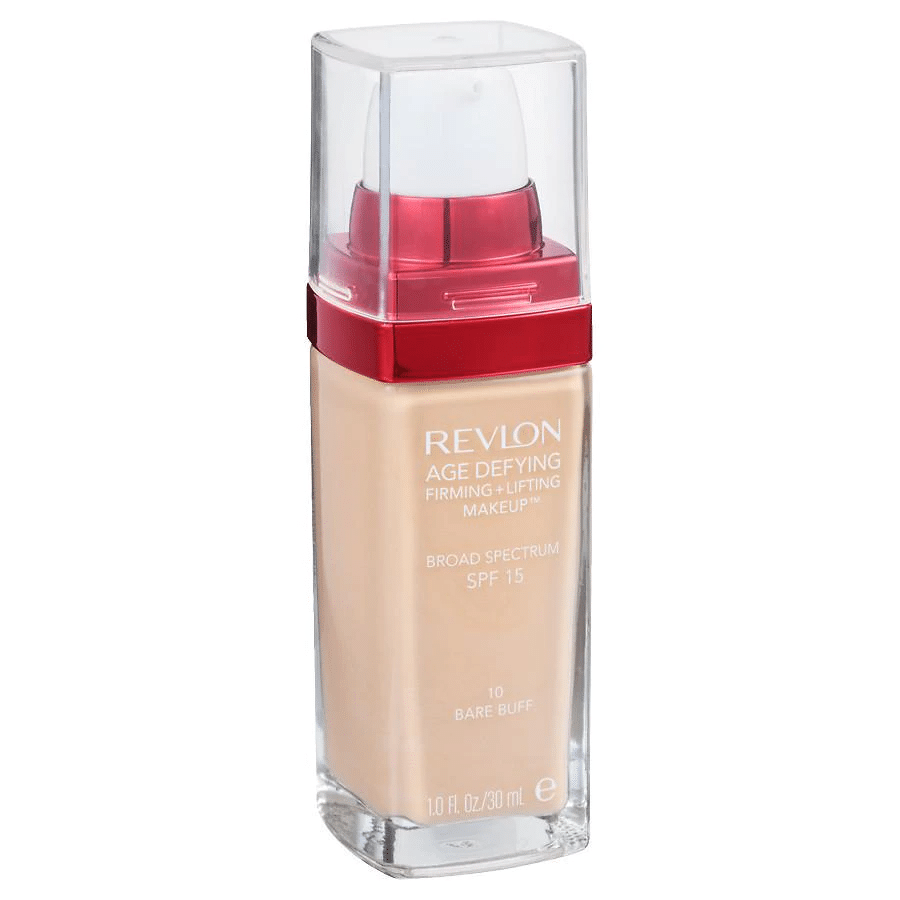 This is an anti-aging foundation that is formulated with triple lift complex and hyaluronic acid to provide your skin with a perfect blend of a hydrating moisturizer, a radiance primer, and a smoothing serum to keep your skin looking younger. This perfect combination will lift and firm any sagging and aging skin. The SPF 30 will also protect your skin from aging. It will keep your skin moisturized throughout the day and offer a smooth finish that will reduce your wrinkles and hide your fine lines. It also has the boost hydration 3X for glowing and radiant skin. This foundation will knock off a few years from your age with just one application. It will leave your skin feeling younger and firmer and offer full coverage, perfect for aging skin.
Pros
Feels silky and smooth on your skin
Doesn't accentuate your wrinkles and lines
Doesn't clog your pores
Controls shine the whole day
Cons
The shade colors may vary
Verdict
A great anti-aging foundation formulated with firming, lifting, and moisturizing properties that are perfect for aging skin. It will keep your skin hydrated while lifting and firming it to give you a younger look.
Estee Lauder double wear stay in place makeup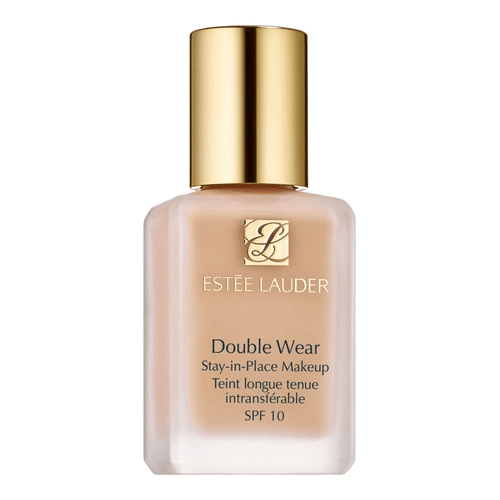 With matured aging comes matured and troubled skin where your fine lines start to show and your pigmentation becomes more pronounced. You also get wrinkles sooner than you think, but this foundation has a great lightweight formula that will give your skin a flawless finish. It's a high coverage foundation that is perfect for sagging skin, fine lines, and wrinkles. With this foundation, you don't need to do any touch-ups because you can wear it throughout the day without losing its freshness. It also doesn't lose its color after a few hours neither does it crack or crease. It has a buildable formula so it will easily hide your spots and scars without you looking like you're wearing a mask.
Pros
It offers good coverage
It lasts all-day
Great for oily and combined skin type
Gets on well and limits shine
Cons
Not good for all skin types
It's expensive
Verdict
A smooth lightweight foundation that has great coverage so your fine lines, wrinkles, and freckles don't show to give you a flawless finish that will last all day.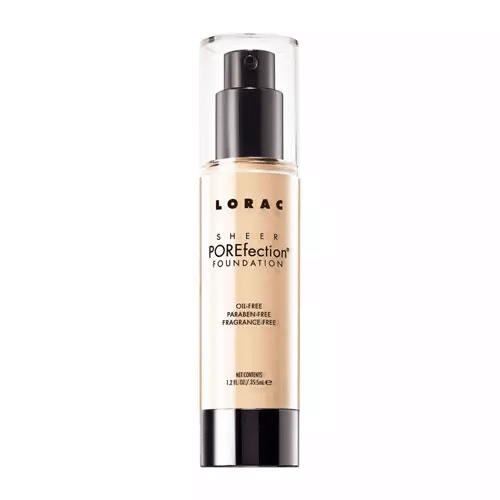 This is an oil-free foundation that is formulated with antioxidants, vitamin A, and E, and natural botanicals which are great anti-aging components that help to reduce your pores, keep your skin healthy and wrinkle-free, as well as soothe and rejuvenate. It has a medium to full coverage and leaves your skin with a youthful glow. This is a great foundation for mature skin that will hide your pores very well to give you a smooth finish.
It has an SPF of 20 that will protect your skin from the harmful sun's rays. Aging skin is very delicate, so you need to start taking care of it before you start to notice fine lines, wrinkles, dark spots, pigmentation, and dryness. It has a formula that is free of paraben, fragrance, and oil so you don't need to worry about getting allergic reactions.
Pros
Offers great coverage
A long-lasting foundation
A light foundation that doesn't clog your pores
Doesn't irritate or cause breakouts
Cons
It's a bit pricey
It takes some time to dry
Verdict
An excellent foundation for mature and aging skin. It's formulated with skin-friendly ingredients that soothe, rejuvenate, reduce your pores, and keep your skin healthy.
Elizabeth Arden ceramide lift and firm makeup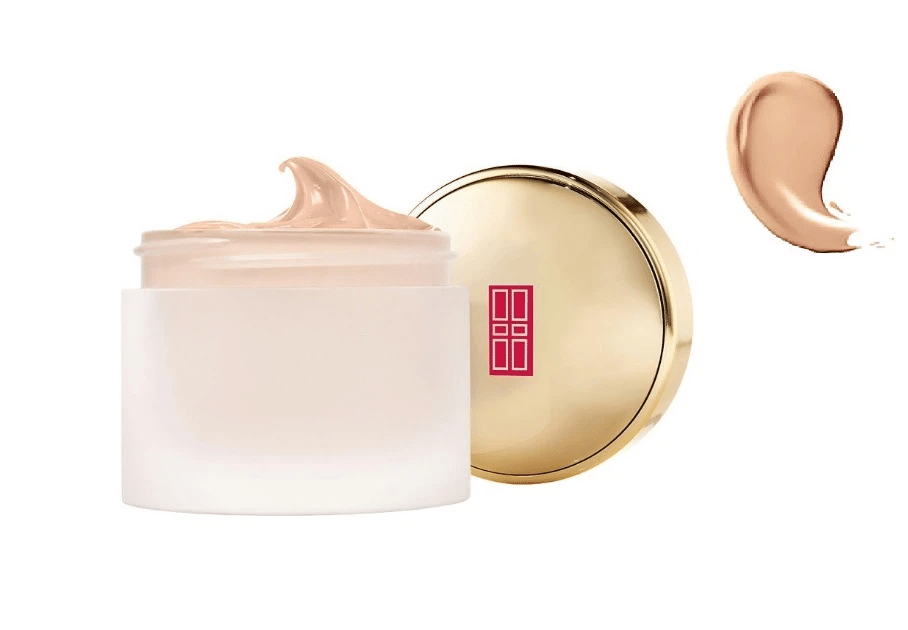 This foundation has a lightweight soft creamy texture that blends well with your skin to give you a subtle satin finish without adding shine. This cream foundation is infused with ceramide triple complex that will help to plump, smoothen, lift, and firm your skin to leave an even complexion. It will also help in reducing the appearance of fine lines and wrinkles. It's also loaded with antioxidants, vitamins A, C and E that will protect your skin from damage caused by free radicals while the SPF 15 provides some sunscreen.
This anti-aging foundation provides a medium to full coverage. The mica and alumina will blur the appearance of your imperfections and fine lines to create a soft-focus effect. Its medium to full coverage will allow you to hide any discolorations and hyperpigmentation.
Pros
A great foundation for dry skin
You can wear it all day and it doesn't crack or dry out
Helps to improve your skin condition
Offers a great full coverage without a heavy feel
Has a silky smooth texture
Cons
It's a bit pricey
Has a peculiar scent
Verdict
A smooth silky lightweight foundation that is formulated with ceramides that work to smooth, firm, and reduce wrinkles and lines on your skin while protecting it from harmful free radicals.
Dermablend smooth liquid foundation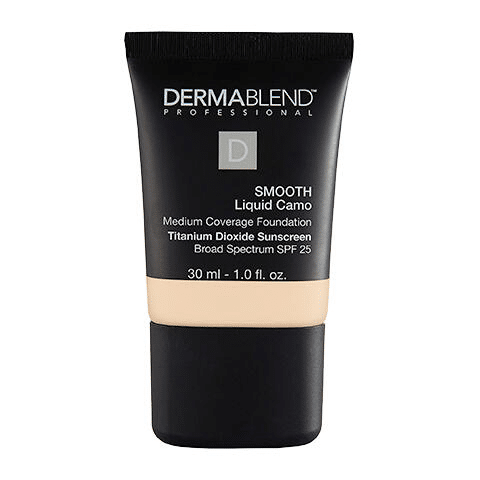 This is a hydrating foundation formulated for dry sensitive skin that will provide you with all-day hydration with an SPF of 25 that will protect you from the harmful sun's rays. This foundation is very easy to blend and fill in lines and smoothens out your skin while covering the fine lines and eye bags. It offers full coverage and is great for mature and aging skin as it covers all your wrinkles, spots, and fine lines flawlessly.
It has a great formula that covers up the excess color on your skin without making you look like your makeup is caked. It's also a great foundation for patchy, red, and dual-toned skin and even if you're struggling with hyperpigmentation, rosacea, acne, or any other skin condition this foundation can help in fixing that. If you also have dry and sensitive skin, this is a great foundation as it has a high moisturizing content and it lasts long. If you get a high shine, you can use a setting powder to set that.
Pros
Covers spots and blemishes very well without a heavy finish
Doesn't clog your pores
It's long-lasting
Doesn't irritate your skin
Has great coverage
Cons
Problems with its consistency
May dry out your skin
Verdict
A great hydrating foundation that has excellent coverage, feels great on your skin and hides your imperfections well while providing sun protection.
Conclusion
Aging skin is delicate and not very easy to work with, so you need extra ingredients that will give it a more fresh and youthful look. A good anti-aging foundation like L'Oreal Paris makeup infallible liquid foundation will help to firm your skin, rejuvenate, and give you back your glow. Now you don't have to be afraid of wearing makeup anymore.